Class Ring Nightmares and How To Care For Your Ring
January 25, 2017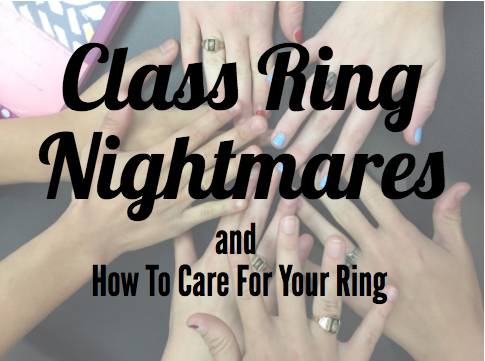 Class rings are a symbol of unity and portray the connection a student has with not only her class but with all the graduates of her high school. That being said, Academy students have a unique connection with their rings, as it represents the close-knit relationship they have with their class. It is also very easy to tell whether or not a girl is a graduate from Academy from the design of the ring that is the same for all generations.
This connection that Academy girls have with their rings is seen through the daily wearing of their rings, no matter what they are doing. Whether it be sports, swimming, or just hanging out with friends. However, there are a few "nightmares" that Academy girls have dealt with because of wearing their rings every day.
Here are just a few "nightmares" that the Class of 2017 had during their first anniversary with their class rings.
Senior, Alexis Miniet says, "My ring flew off my finger at Senior Sleepover and I had no idea where it landed. I had a group of people helping me look for like an hour and then we stopped because we wanted to dance and then after the first day of school me, my brother, and his friend went back to Domenica's to find it and within 5 minutes my brothers friend looked in the bushes and picked it out of the dirt…I started crying."
Laura Henry, senior at Academy shares, "Mine turned black when I went on a cruise and then casually went back to silver after two days of not wearing it."
Academy senior, Jhuztin Honrado, "The crest on my ring is really crooked (more than usual). I also lost it like a week after we got them and apparently they found it right when I lost it. And then one of the ladies in the office yelled at me for losing it."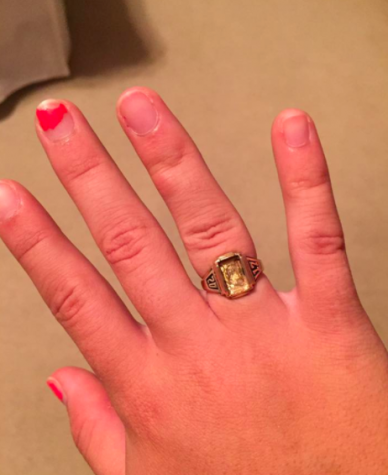 Academy senior, Olivia Stevens, shares, "Once when I went to North Carolina I wore my ring to bed and when I woke up it was gone. But I was going to Myrtle Beach for the next three days so my entire family tore the house apart before we left and we couldn't find it. I cried the entire trip and when we got back home I went to make the bed and it was under the pillow."
Senior, Sophia Mastro shares, "I did not even know I had lost mine until I found it on the field before a lacrosse game and went to ask around who's it was and Reilly Gillis pointed out that it had my initials."
Kate Reitz shares, "I thought I baked my ring into a cake one time. It was missing for months, and I was sure it had accidentally been thrown out with the rest of the cake. Thankfully, I found it in my jacket that I had been wearing the day I was baking."
Senior Allison Wehle, shares, "I never took my ring off for two months after Junior Ring and constantly got a rash on my finger where the ring was. It would itch like crazy and then it would bleed. My mom said it was because I never took it off so now I have to take it off when I sleep."
Haley Morell shares, "I was at a softball tournament and had been playing all day and when I went to grab my ring from my bat bag it wasn't where I put it. I started freaking out and my whole team saw me and told me to suck it up it was just a ring. But when I explain what it meant to me, they all stopped what they were doing and looked and we found it on the ground next to where my bag was hanging."
Worst news so far, Tess Jakubeic shares, "My ring partially degloved my finger and had to get sawed in half so they could get it off my hand."
Jewelry, no matter the purity of the material, whether it be gold or silver, will tarnish or discolor due to harsh cleaning materials, acids, or alkalis. Here are some ways you can keep your ring in its pristine condition as told by Herff Jones: Achievement Products.
Wash with mild soap if the metal has tarnished with lukewarm soap.

Do not use any brush, sharp instruments or rough cloths for cleaning.

Avoid any contact with mercury or harsh acids. This will permanently discolor your ring.

Always remove your ring before engaging in sports or heavy labor to safeguard against breakage or nicks.

Some people have a reaction between their skin oils and jewelry, which can result in a black colored smudge on their skin. This can be avoided by cleaning the jewelry more frequently.