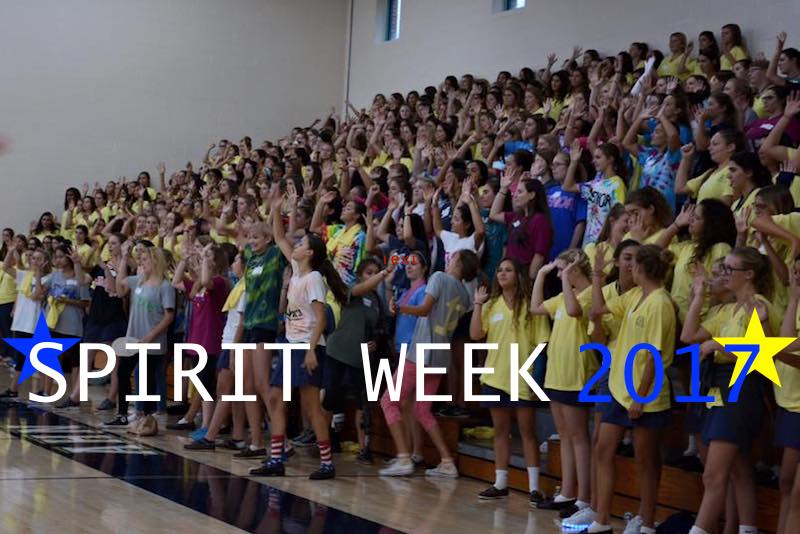 Photo Credit: Lindsay Calka (used with permission)
Spirit Week: Themes and Field Day Plans Revealed
January 10, 2017
Spirit week is right around the corner! On Monday, January 9, the themes were released to the entire school. If you missed it, the themes are-
Medieval Monday
Freshmen- Jesters

Sophomores- Knights

Juniors- Princesses

Seniors- Queens
Legendary Tuesday
Freshmen- Scholars

Sophomores- Films

Juniors- Sports

Seniors- Music
Service Wednesday
*Everyone can wear fun/wacky socks
Holiday Thursday
Freshmen- Groundhog Day

Sophomores- New Years

Juniors- 4th of July

Seniors- Halloween
Harry Potter Friday
Freshmen- Hufflepuff

Sophomores- Ravenclaw

Juniors- Slytherin

Seniors- Gryffindor
Locker Themes
Freshmen- Hufflepuff

Sophomores- Ravenclaw

Juniors- Slytherin

Seniors- Gryffindor
The video below outlines some of the dos and don'ts of Spirit Week. There are a few existing rules students should remember as they are preparing their outfits. These include accessories only on Monday (Mass day), dress to your theme, and conduct yourself appropriately. This year, a few new rules will be enforced. Usually students are not permitted to wear sweatpants to school, however for students dressing as a sports figure, they are allowed. Furthermore, leggings may be worn only if the student wears some kind of athletic short on top of them.
https://youtu.be/FL-NHHZ-Pko
Every year the Golden Girls Club hosts a pep rally for the entire school. This year the events for the pep rally will include dance battle (choreographed), then vs. now (teachers vs. students music competition), a riff-off, Just Dance, a Hula hoop contest, and finish the lyric. Sign up sheets have been hung in each homeroom. Golden Girls encourages as many students as possible to sign up in order to make the pep rally as fun as possible.
On top of the usual festivities of Spirit Week, Academy will also have a field day on Friday following Jag Ball. Golden Girls is planning to have various activities set up including Quidditch, capture the flag, a scavenger hunt, a tailgate area, and many more This is a special treat since Academy has not hosted a field day in many years.
With all the new and exciting changes, this year's Spirit Week might very well be the best one yet. Thanks are definitely owed to both Emily Anderson and Lauren Sellers, the chairpersons of Spirit Week, for their dedicated efforts to planning and organizing Spirit Week 2017. Sellers and Anderson said "We have a lot of new things happening this year during Spirit Week and we are really excited. We hope everyone else gets hyped too."