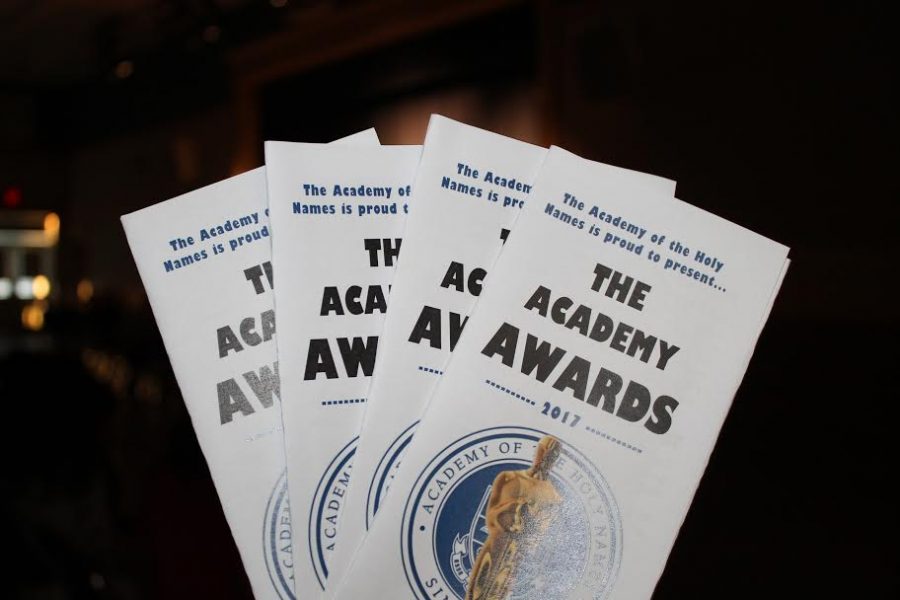 Photo Credit: Nicole Browne/Achona Online
Freshman Maddie Boback Receives First Place At AHN's Academy Awards
February 15, 2017
On Sunday, February 12, Academy hosted the Academy Awards, an annual talent show who's proceeds go towards the senior endowment. Students from all grades performed on stage in front of a large crowd in the Brady Center.
The event was kicked off by a performance by juniors Gracie Wipfli dressed as Alexander Hamilton, Maddie Obregon as Thomas Jefferson , Gretchen Swenson as James Madison, and Audrey Diaz as George Washington. Together they recreated the song "Cabinet Battle #1" from the hit musical Hamilton.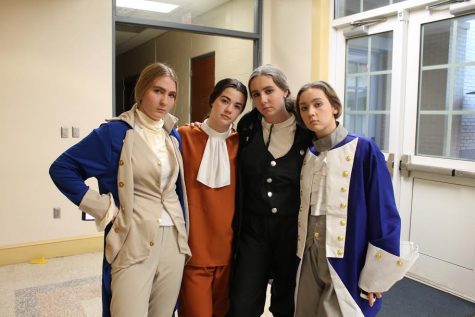 Obregon said, "We all just really are obsessed with the musical. As it happened, we all knew the words to the song we performed before we even decided to be in the talent show."
Senior Marie Dela Cruz took this opportunity to share with Academy one of her lesser known talents. De la Cruz said, "I already knew how to play "Stairway To Heaven" on the guitar, and I also knew that I wanted to incorporate guitar into my act. A lot of my classmates don't know that I even play the guitar. So I found that I could sing the song "Chandelier" on top of it and it worked." De la Cruz received a third place award for her performance.
Rachel Tata, who was awarded second place and has performed in the talent show during previous years, said, "I picked my song ["You've Got A Friend"] because this was my last talent show. It's all about friendship and support, and although I'm happy to perform, it's also bittersweet cause we (the senior class) are leaving soon."
Freshman Maddie Boback, the performer awarded first place, showed off her ten years of Irish tap dance training at the show.
Boback said, "No-one has ever seen me Irish dance here before. And I feel like when people think of Irish dancing they think of a jig or another less serious dance. So I wanted to show everyone that there is a competitive side to it, and it is actually very hard and takes a lot of stamina."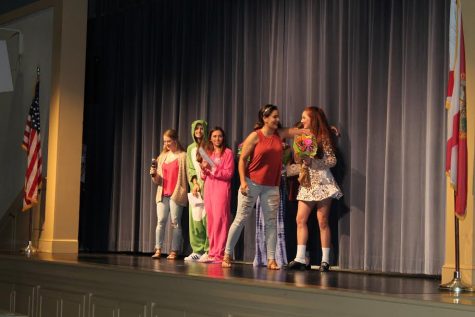 Throughout the performances, the judges, Paul Sloshberg, Stephanie Nitchals, Emily Pantelis, and Vivian Kimbler, made note of overall performance, audience response, stage presence, confidence, originality, and the money raised by the individual or group. Each category was given a score of one to ten. The three students who received the highest overall score were awarded Target gift cards and a bouquet of flowers.
Donezo, the band that was the last to perform on Sunday as part of the competition, brought to stage an entertaining and educational song about the wiggles and mitosis. Members of the band include Liz Benjamin, Kate Scanlan, Emily Orama, and Megan Przedpelski. Although they did not place, the band was proud of their performance and even thanked their fans.
The Quarter Notes closed out the show by singing together "Hallelujah" and "Seasons of Love". Christina Suarez Solar, junior member of the singing group, enjoyed the opportunity to sing in front of a captivated audience.
Suarez Solar said, "I think that our performance helped settle down the crowd a little bit and it's really nice to know that we have an audience to sing to."
The talent show was coordinated by the Advancement Office, namely Patty Bohannan, and Senior Class President Ashley Lambert and her VPs. Together they had to hold auditions, sell tickets, and gather a group of senior volunteers to work at the event.
Lambert said, "It was stressful but it was also lots of fun. I got to be apart of the auditions, hear everyone before they officially performed, and watch as they progressively added more stuff to it like outfits and lights. But overall I really liked organizing the event and I think I did a good job."
The top three performers will be allowed to perform their acts at the next few Convocations.