New Band, Donezo, Takes Over Academy
February 23, 2017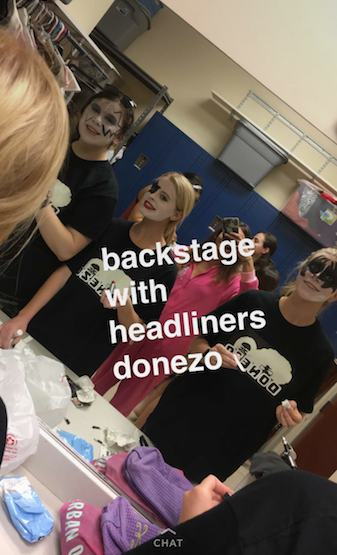 Academy of the Holy Names has been graced with a new band which all started with a couple of friends in Paul Sloshberg's Biology class who discovered their connection through song writing. After coming up with their first single, "Mitosis," there was no going back. As their group, Donezo, developed, so did their dreams; seniors Megan Przedpelski, Liz Benjamin, Kate Scanlan, and Emily Orama would begin their journey to stardom by performing at the annual Talent Show.
"It wasn't going to be easy, we all knew it was going to be a lot of work," says Orama
Day in and day out, Donezo wrote songs and practiced for the show which took place February 12, 2017.Donezo: The Big Day documentary captures the band members the day of their first show, from waking up that morning to the emotional results. The audience is given the opportunity to receive insight as to how the newly found fame has affected Donezo and their fight to stay normal. Each moment is raw and takes the viewers through their highs and lows.
https://youtu.be/FhGwwDkx_SY
Between Donezo fans and manager Paul Sloshberg, they were able to get through the tough loss of the Talent Show by turning those feelings into art, with soon to be released single "Pain-ed Love" to the melody of "Beth" by the iconic rock band Kiss. Not making even top three was the first time Donezo experienced any kind of failure, but they knew can only go up from here.
Robin Zander, member of the famous 70's band, Cheap Trick, gave Donezo some advice and praised their performance.
The night of their first gig, Zander said to Donezo, "You guys are ridiculously funny."
The possibilities are endless for Donezo and they are taking every opportunity to get their name out there. Their Instagram, @officialdonezo, already has 95 followers and the band is planning on making their documentary go viral.