Pep Rally Kicks Off Spirit Week 2017
February 5, 2017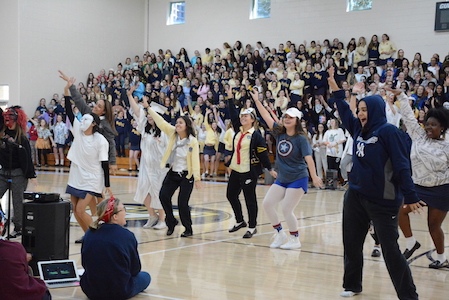 Due to a last minute cancellation of classes Friday, Academy students kicked off the 2017 Spirit Week with the pep rally which normally takes place at the end of Catholic School's Week.
Senior Naomi Youakim says, "It was weird having the pep rally first, since we are all used to having it at the end Spirit Week, but regardless it was still fun."
Hosted by Spirit Week Committee Heads, Juniors Emily Anderson and Lauren Sellers, and committee member Anne Marie Collins, the rally consisted of competitions of "Just Dance," "Finish the Lyrics," and dance battles between all four grades. Then, voted on by applause, the top two grades moved on the next round.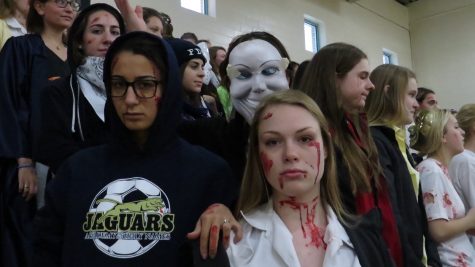 Anderson says, "As Co-Chair of the Spirit Committee, I wanted to make sure more girls would participate in dressing up and having school spirit. I think we definitely achieved our goal by choosing good themes and implementing the point system between grades, although there was some tough competition."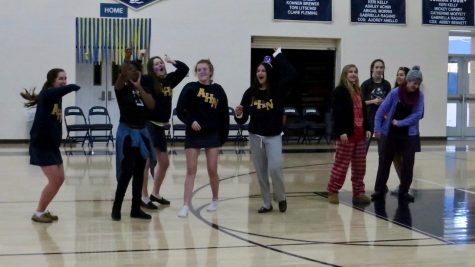 This year, Golden Girls wanted to change up the usual pep rally by adding more contests and more opportunities for grades to win points.
The Juniors won the "Just Dance" competition, Sophomores won "Finish the Lyrics" and the Seniors won the dance battle.
The most heated competition of the rally was the dance battle between the Seniors and Juniors. With the theme of the day being "Holidays," the Juniors dressed as Fourth of July and Juniors Maddie Obregon and Alex Smith choreographed a patriotic performance.
https://twitter.com/maddieobregon12/status/826471392963076097
The Seniors choreographed a dance that mimicked the popular meme "You Can't Stop the Music," a clip from an 80's children's show, and incorporated their own twist to buy adding Jay Z's song "Tom Ford" at the end.
you can't stop the SENIORS pic.twitter.com/O7gQFvxzXo

— sharøn (@shannonflaharty) January 30, 2017
In typical fashion, at the end of the event, student's gathered in the center to sing the alma mater. Although there was fierce competition between the four grades, Spirit Week was once again a time for the whole school to come together in celebration of Catholic School's Week.