Senior Class Shares Advice to Freshman
February 13, 2017
Tuesday February 7, volunteers from the Senior class led Freshman circles in the gym. Each group was made up of three Seniors and six Freshman making the circles small and personal. Before Tuesday, the Freshman class took an online survey where they could anonymously write any question they had for the Seniors. The questions consisted of three main groups: academics, social life, personal life.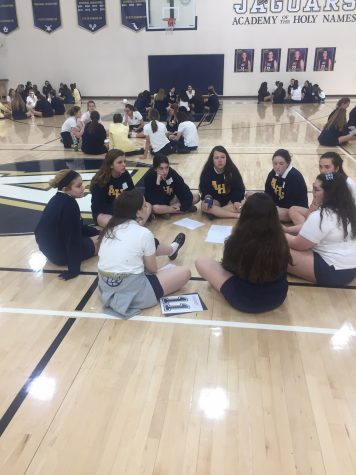 Circles first started with an icebreaker. Students were asked, "If you had a picture frame sitting on your desk in college to commemorate your time at Academy, what would you want it to look like? What would you want to be in the picture frame?" Answers varied from pictures of graduation, junior ring, jagball, to different sports teams.
Senior Ciara Chappell said, "My picture would be from Jagball Freshman year. The Freshman and Senior class at the time came together during Jagball and took a picture together at the end. It was one of my favorite moments at Academy, and showed the true meaning of sisterhood."
After the ice breaker, the group divided into the questions. Each group was given the Freshmen's anonymous questions and the Seniors tried to answer as many questions as they could in allotted 45 minutes. Freshman were also given the opportunity to ask additional questions.
Freshman Olivia Williams said, "I loved the circles. It was very helpful to talk to girls who were close in age and had gone through similar experiences. I received amazing advice from how to deal with stress to dealing with fake friends."
The guidance department looks forward to continuing these circles for years to come. They were beneficial to both the Seniors and the Freshman. The Senior class got a chance to reflect on their time spent throughout high school and share what they have learned.