Homecoming Court: How Was it Decided?
October 10, 2017
The 2017-2018 school year has marked a change in how Academy seniors participate in Jesuit's Homecoming that involved the meeting of the two school's student council officers to give Academy more of a say in which girls represent their own school. 
Vice President of Student Council, Maddie Obregon ('18), says, "It went well and that it was definitely a learning experience for all of us, but we came together as a class and chose the right decision."
Twelve girls in the senior class signed up for the five spots on Jesuit's homecoming court. In order to vote, a survey went out to all seniors by email on Tuesday, Sept. 26. However, instead of voting for five girls, each senior only voted for three. From this, the top five names that were chosen by the senior class were selected for Homecoming court.  
The Homecoming court's participants are Gretchen Swenson, Sophia Doussan, McKenna Weathers, Feraby Hoffman, and Isabella Sebeck.  
Isabella Sebeck says, "I thought that AHN was just opening up a can of worms with Jesuit. It wasn't until I found out who else made the court that I realized that the girls truly did vote based on the content of their character, not on who's the prettiest or who's the most popular. That's when I appreciated the girls voting over the boys. When Krukar said my name, I was in shock; I didn't believe her."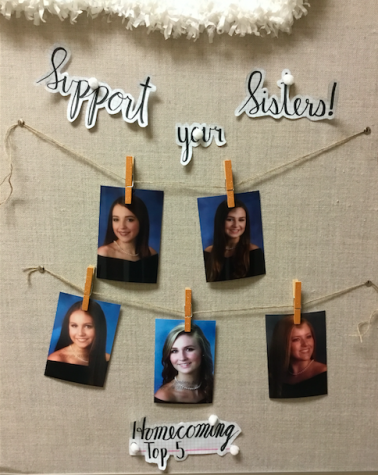 Feraby Hoffman says, " I was happy that the senior class voted. I think it is more special to be voted for by people who truly know us. I was kind of shocked when Mrs. Krukar told me, because I really did not think I was going to get it. This has been something I have wanted to do forever, and I went for it."
Senior Evan Greek says, "I am happy that we came together as a class to vote on our own for the girls who are going to represent our grade at Jesuit Homecoming."
Krukar emailed the names of the five winners to Jesuit High School. Jesuit accepted the names, and responded saying they were going to take the girls and just move on. As of right now everything is on track.
Krukar says, "We hope that by experiencing this with Jesuit, they change their policy for the coming years, and we expect many more conversations with them regarding homecoming court in the future."