Meet the Cinderella Cast and Crew
October 6, 2017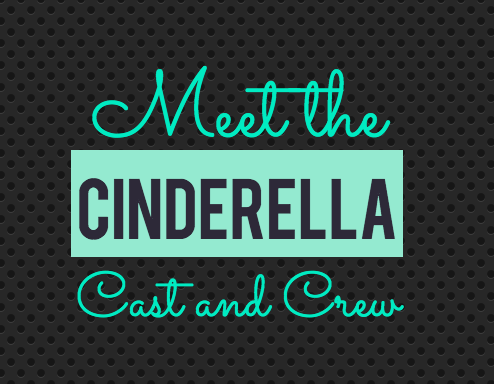 The 2018 Spring Musical at the Academy this year will be  "Cinderella". Auditions were held on Sept. 22-28, and Friday Sept. 29 the cast list was posted.
The fairy tale will take the stage on April 12,13,14,19, and 20 in the Bailey Center in the Scarpo Theatre.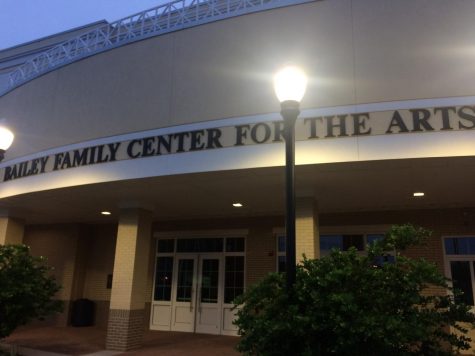 This year's lead is freshman Isabella Ruano ('21) who take the stage as Ella in all four shows.
She talked about her audition and said, "I did my monologue first, and then I sang 'In My Own Little Corner', and then I sang the song of my choice, 'Goodnight My Someone' from 'The Music Man'."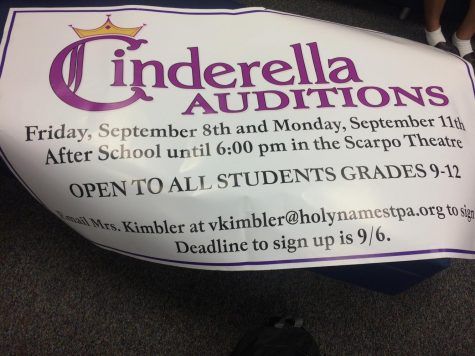 She is very surprised to have the lead role as an underclassman.
She said, "I did not think I had a good chance of getting Ella, because there were a lot of good people there. I've never gotten a main role in a play before. I've done plays a lot of times at my old school, I've had main roles, but never the lead."
Rurano discovered she got the lead through one of her fellow cast mates Nyla Jacobs ('18). She said, "I found out from Nyla I was so shocked I was like 'whoa whoa whoa' I was so happy I kept hugging Nyla."
Overall, Ruano could not be more thrilled to be a part of the production, and is ready to take on the main role. "I'm excited for everything, and the costumes, oh my gosh, I bet they'll be so cool," said Ruano.
Cast members are ready to work hard to ensure that the show is perfect. Mary Kelly Cardillo ('20) is one of the Ballroom Dancers. After seeing "Footloose" last year, she was interested in being a part of this years production.
"Some of my friends were in the play last year and it looked like a lot of fun, so I wanted to do it," said Cardillo.
Though it's her first Academy production, Cardillo said, "I'm not worried I'm excited. I am not going to have to memorize any scripts, but I do have to memorize the dances. I feel prepared." said Cardillo.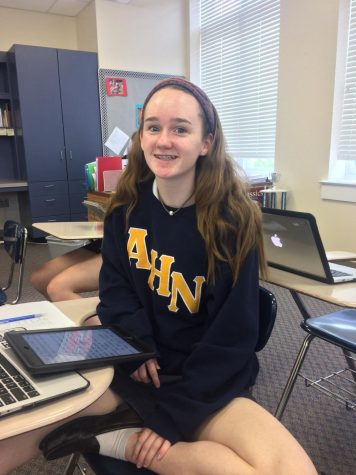 Crew member Lindsey Ulbricht ('18) is also eager to begin preparing.
She said, " I'm looking forward to it. I'm excited that we are in the Bailey Center now, and she [ Kimbler] told us that props will be swinging in, so I'm excited to see how that works."
The first cast and crew meeting, excluding the Quarter Notes, will be on Sunday, Oct. 8, in the Bailey Center from 5:00 p.m.-6:30 p.m. The meeting will entail giving out scripts and rehearsal schedules, measuring for costumes, and headshots will be taken.
"I'm excited for the first rehearsal, a little nervous, but mostly excited," Ruano said.
The cast and crew of Cinderella includes:
Ella: Isabella Ruano ('21)
Giant: Wyatt Swezey (Jesuit)
Topher: Joseph Lopez (Jesuit)
Lord Pinkleton: Caroline Lamoureux ('20)
Sebastian: Nicholas Asher (Jesuit)
Marie: Victoria Huerta ('21)
Jean-Michel: Jimmy Gammig (Jesuit '21)
Madame: Allie Golson ('19) and Madison Troy ('19)
Gabrielle: Robin Sailor Zander ('19) and Jaclyn McCauley ('19)
Charlotte: Ella Jurusz ('19) and Audrey Diaz ('18)
Fox: Christina Alarcon ('18)
Raccoon: Sydney Beil ('18)
Footman: Riley Schlinder ('20)
Driver: Wyatt Swezey (Jesuit)
Lady of Ridicule: Nyla Jacobs ('18)
Ballroom Dancers:
Mary Kelly Cardillo ('20)
Olivia Perez ('20)
Sarah Gonzalez ('20)
Juliana Jett ('19)
Angie Prince ('21)
Lindsey Ayers ('19)
Grace Wipfli ('18)
Hope Joffray ('20)
Ladies of the Court/Knights:
Hanna Skelly ('19)
Isabella Leandri ('19)
Greta Dieck ('19)
Morgan Farrior ('19)
Stephanie Oehler ('21)
Clare Mooney ('20)
Alexa Fredericks ('19)
Lauren Jones ('20)
Kathia Guzman ('20)
Riley Schlinder ('20)
Isabella Ferrie ('20)
Crew:
Stage Manager: Sydney Lowman ('19)
Set Construction Chief and Prop Manager: Julianne Bland ('21) and Lindsey Ulbricht ('18)
Sound Chief: Katelyn Chau ('20) assisted by Emma Eaton ('20)
Lighting Chief: Mei Lamison ('20) assisted by Emily Nash ('20)
Spotlight Operators: Maria Almendares ('19) and Gabrielle Boyd ('19)
Costume Coordinator: Danielle Finster ('20)
Make-up: Victoria Fuentes ('20)
Concessions and Usher Coordinators: Ava Olivia ('20) and Talia Sharrieff ('18)
Assistants to the Director Vivian Kimbler: Samantha Garateix ('18) and Talia Sharrieff ('18)