Academy Girls Act As Fools
November 13, 2017
On Nov. 9-11, 2017, five Academy girls performed with the Jesuit Masque in the show "Fools" by Neil Simon. "Fools" is a play about a Russian town that has been cursed with stupidity for the past 200 years. The play is filled with slapstick jokes to entertain the audience. The girls involved could be heard laughing at their lines during the initial rehearsals.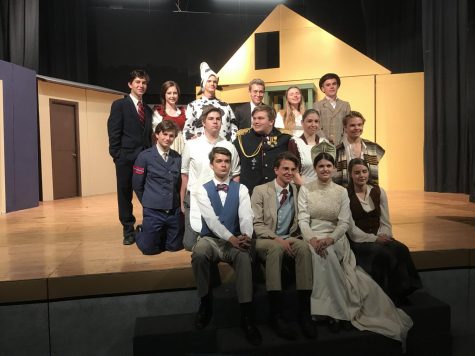 "I like the audience's reactions to it because it's better to have them laugh because when they're silent, the pressure builds up and makes the actors nervous," says Julia Barreto ('18).
Isabella Onken ('18)  stars in her fifth play at Jesuit as Sophia Zubritsky, Lauren Lavery ('18) performs in her third Jesuit play as Sophia's mother, Lenya Zubritsky, Hannah Traud ('20) participates in her second show as an actress, Yencha, and Julia Barreto, in her fifth Jesuit show, was joined by Hannah Skelly ('19), in her first Jesuit show, in the ensemble.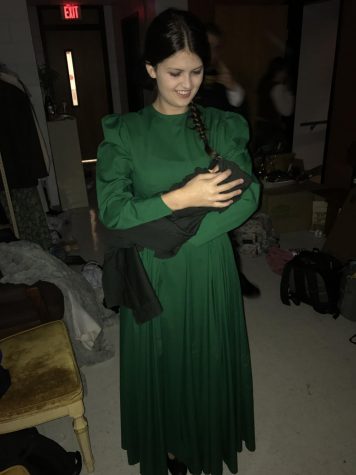 "I really like the people in it. They're fun to work with and are really welcoming," said Skelly.
The girls spent hours rehearsing after school and on Saturdays at Jesuit. Not only were they responsible for learning their lines and blocking, learning where they should move, they were also required to attend some build days on Saturday to help finish the set. Since Onken, Lavery, and Traud have the three female speaking roles, they spent more time rehearsing their many scenes at Jesuit.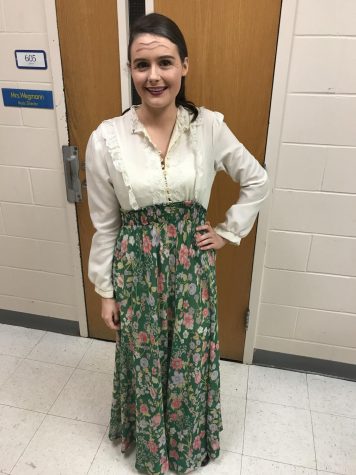 "I do not like staying for a longer period of time but it's worth it because I get to see my friends every day and the bonds and experiences you share and make are worth it. I'm going to miss it when I graduate," says Lavery.
On show days, Traud must arrive at the set a half an hour before the cast is called due to the amount of hair greying and aged makeup her character requires.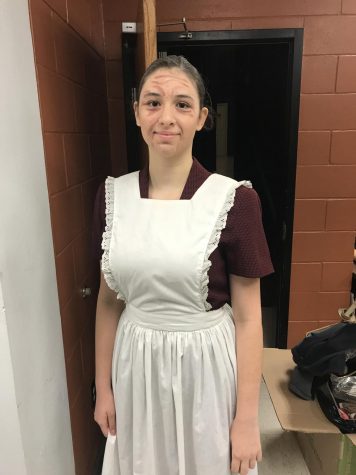 "I was uncomfortable because I didn't like looking ridiculous on stage in front of people I know. I started making jokes about it and it became one gigantic joke and laughing with other people about it made me feel better," says Traud.
Onken has a few quick changes throughout the show and a total of five costumes, one being a wedding dress with a train. Throughout her four years performing at Jesuit, she has become a master at quick changes and has learned what needs to happen for a successful change despite any problems that may arise, like not having a costume ready for wear yet.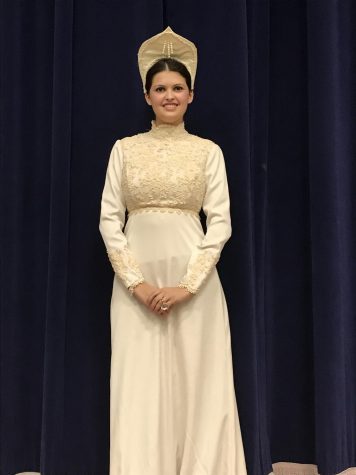 "Since I have four (quick changes) I do my best to do them quickly so I am back on stage in a matter of seconds. I have a "Naked Proof Nude Suit" consisting of pantyhose, Spanx, and a built-in bra so I can easily change and no one will see anything. I've done some in the past but this is the most I've ever had," said Onken.