Academy Honors Veterans at Convocation
November 13, 2017
Veterans Day is celebrated annually at the Academy during a convocation to honor those who have served and sacrificed for the country.
Ella Castellano ('20) says, "I am very excited for the convocation because we get to come together as a school community and celebrate our veterans."
This year, the convocation was held on Friday, Nov. 10, 2017 and theology teacher Kim Wiley decided to be in charge of organizing the convocation during the advisory period.
Wiley said, "We realized that Veterans Day fell on a weekend this year. We wanted to make sure we recognized it as a school because many of our families at AHN are military and we all owe veterans a huge debt of gratitude for doing what they do for our country."
Mckenna Weathers ('18) has a personal connection to Veterans Day tomorrow because her father Mike Weathers is a veteran himself.
Weathers says, "Veterans day always has a special place in my heart because my dad served. A lot of people don't understand the things people in the military do and the true sacrifices they make so veterans day is always a special way to recognize them."  
The first speaker was Carolyn Riley, former Lieutenant Junior Grade, U.S. Navy Veteran. Riley spoke about her accomplishments and favorite memories from her experience serving in the U.S. Navy. She described her experience as something "she will cherish for the rest of her life." Riley showed students metals she has received for  outstanding service.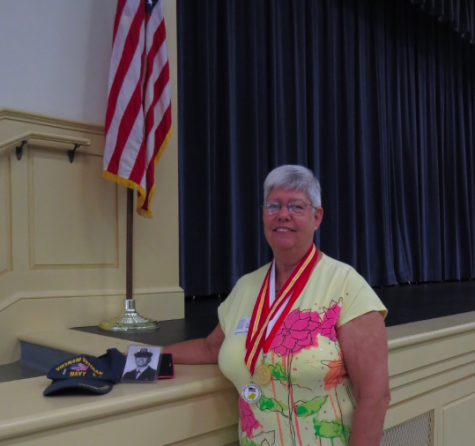 The second speaker was Stephen Katz, a US Navy Veteran, representing Honor Flight of West Central Florida. Katz talked to the student body about the program he works for and the work that they do; including the Honor Flight of West Central Florida which gives veterans a free trip to Washington D.C. so that they can see the memorials built in their honor. Katz also told the students that each day, around 400 Vietnam veterans are dying, and almost all of these veterans have PTSD from their experiences at war.