Academy Students' Thanksgiving Travels
November 30, 2017
This year, Academy of the Holy Names' Thanksgiving break lasted from Saturday, Nov. 18 until Sunday, Nov. 26. Several students traveled out of town for many different reasons to enjoy their break. Some went to celebrate the holiday with extended family, to go on vacation to explore a new place, or just to enjoy some cooler weather. Since the weather in Tampa is so hot and humid during the holidays, students enjoy going to other places, often up north, to be able to enjoy the different weather that Thanksgiving usually brings.
Some girls traveled north to New York to experience cold weather and the city. Amber Pedregal ('18) visited New York City to see the Macy's Day Parade and all the famous attractions of the city. Caroline Lamoureux ('20) also traveled to New York but stayed in Long Island to celebrate Thanksgiving with family.
Pedregal said,  "I liked doing something new and different this year for thanksgiving rather than staying home like we normally do. It was my first time going to New York, so I really liked exploring the city with my family and cousins."
Lamoureux said, "I got to see my cousins, whom I don't get to see too often because of the distance. My favorite part was getting to see my older siblings after a couple months, because they all live in different areas."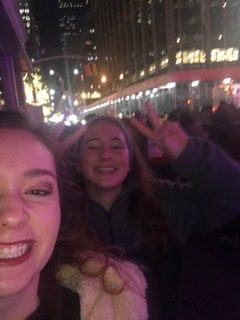 Sophia Doussan traveled to Mandeville, Louisiana for Thanksgiving. Instead of traveling for cold weather, she went to stay with her grandparents and then spent the day in New Orleans.
Doussan said, "I enjoyed being out of town since I hadn't been to New Orleans in six years, but I wouldn't want to have gone anywhere else because I missed my grandma here in Tampa. My favorite part was going past my old home and then visiting the French Market and French Quarter where I went shopping and eating."
https://www.instagram.com/p/Bb77q0Hh9cV/?taken-by=sophia_doussan
Other girls, while still traveling, stayed close to home. Angelina Prince ('21) traveled to Boca Raton stayed on the beach with her family for Thanksgiving.
Prince said, "I liked being out of town because, when I am in my home environment, I always feel like there is something I should be doing to make my life more productive, but when I'm on vacation I don't have to do anything so I can just relax. My favorite part about being out of town is exploring new things, and expanding my experiences, and having a change in scenery."