AHN Student Council Announces Formal Date Change
November 1, 2017
AHN's Winter Formal has been a school tradition for many years. Recently, a number of modifications have been made to modernize this annual event. Just last year, student council announced that students were no longer required to have a date to attend formal.
Director of Guidance Sister Mary Glavin said, "Actually there has been very little change in formal over the years. It's always been a very beautiful event, but we do change the venue as often as possible to keep it fresh every year and we have always had a receiving line. The only change that I can think of is that last year we decided to let girls come without dates."
Many students were unable to attend formal in the past due to the requirement of having a date to attend the dance. This long awaited change thrilled many students who were unable to attend formal in previous years. In fact, many new faces were seen last formal – riding solo- at the annual occasion.
Junior Bailly Gray said, "I really liked the rule of not having to bring a date because between the stress of school and exams, finding a date seemed impossible."
This year, it has been announced that the formal date has been changed from Thursday Dec. 21, 2017 to Friday Dec. 15, 2017, or the first day of semester exams. This came as a surprise to many students as formal is normally scheduled on the last day of exams. The reason for the date change was based around students being unable to bring dates who had exams the day after the original date of the event.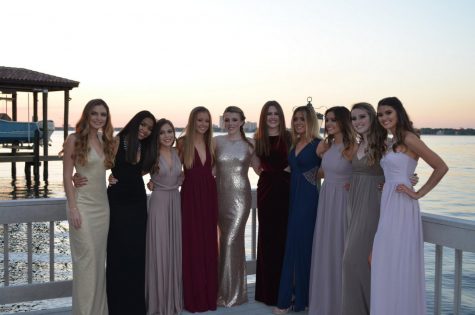 With formal annually being amended to the student's and faculty's preferences, there are many ways formal can change over the next few years. 
Junior MacKenzie Ker said,"Maybe we could shorten the receiving line at the beginning, because it's long. We could have multiple people you could go to instead of it being that you have to go to every single person, so you would only have to go to one person instead of a whole line of people."
Be sure to keep an eye out for any further formal announcements from AHN's Student Council such as this year's theme, new policies, or the location of the event.