Jagwires: Robotics Update
November 8, 2017
The Robotics club, Jagwires, consists of 15 Academy team members who work together three days a week after school to build robots for competitions. The robots built for competitions must complete specific tasks in order to gain points competing against other high school teams.
Co-captain and electrical leader, Christina Alarcon ('18) said, "Right now we are working to finish building the chassis, prototyping an arm for the robot, and planning out the electrical to power and run the robot. We have to finish all of this by Saturday because that is our first competition."
The club is divided into departments and are lead by junior and senior members. The leaders of the club consist of: Co-Captains, Priscilla Santiago ('18) and Christina Alarcon ('18), mechanical leader, Chloe Glaum ('18), electrical leaders, Christina Alarcon ('18) and Colleen Duffy ('19), coding leader Maria Hurtado ('19), and media leader, Priscilla Santiago ('18).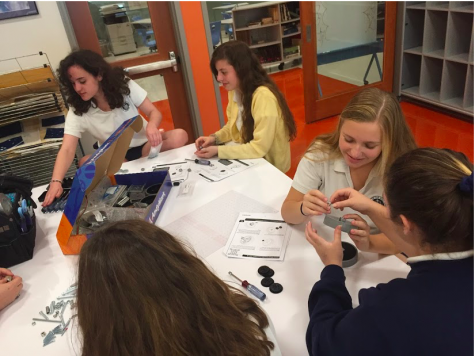 Mechanical leader Chloe Glaum ('18) said,"We have competitions roughly once or twice a month in which we compete against other teams to score the most points in a obstacle-course-like field."
The club is on a tight schedule, meeting three days a week to perfect and engineer their robot to fit the standards and expectations of each competition in order to have an advantage over their rivals. The first robotic competition is being held on Saturday Nov. 4, 2017 at Middleton High School.