Seniors Receive College Acceptances
November 2, 2017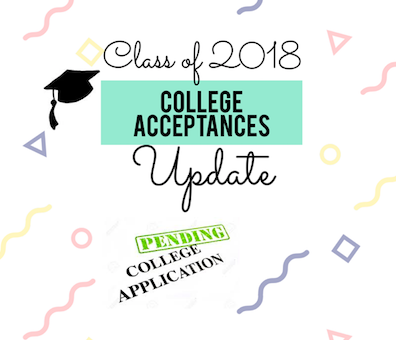 While many college application deadlines are coming to a close in the upcoming weeks, plenty of universities still offer rolling admission decisions.
Rolling admissions is when applicants submit their applications to the university anytime within a large window of time. Colleges will respond as the applications come in, instead of waiting until a certain deadline to release the admission decision.
Alexandra Fonseca ('18), who was accepted into Florida Atlantic last month said, "Florida Atlantic University is my second choice, but I really liked it because the tailgates are a whole different experience. Also, I loved how close FAU is to the beach and there's so much to do. The campus is really clean too."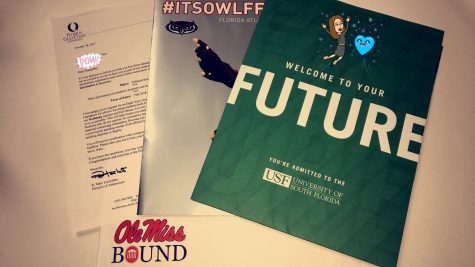 Amber Pedregal ('18) said, "Getting accepted into college has definitely been a stress reliever at this point. My number one school has not released decisions yet, but it still feels good knowing I will go somewhere considering all my applications are finished."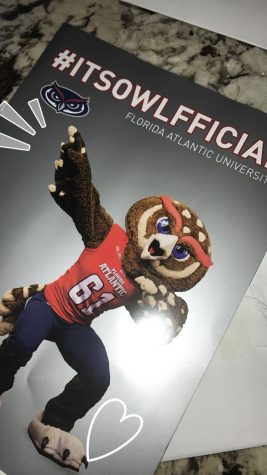 Members of the class of 2018 have been accepted to more than 15 different universities so far. More decisions will come out in early December through March. Seniors must then give a final enrollment decision to colleges by  May 1, 2018 at the latest.
Following colleges AHN seniors have been accepted to:
Florida Atlantic University

Alexis Alvarez, Gillian Garcia, Amber Pedregal, Alexandra Fonseca, Sophia Doussan, Jaed Seymour, McKenna Weathers, Natalie Mauro, Samantha Cano, Jackie Beltram, Mia Lopez, Emily Anderson, Vanessa Davila, Priscilla Santiago

University of South Florida

Amanda Lazzara, Evelyn Martinez, Emma Sewell, Macy McConnie, Isabella Sebek, Olivia Traud, Alexis Alvarez, and more

University of Central Florida

Jules Lavoy, Emily Anderson, Chloe Guam, Allie Kimpland, Christina Suarez-Solar, Abby Rodriguez, Jazmine Sanchez, and more

Florida Gulf Coast University

Abby Rodriguez, Connor Gee, Emily Venezia, and more

University of Alabama

Jaed Seymour, Alexandra Fonseca, Samantha Garateix, Gracie Wipfli, Mia Lopez, Allie Kimpland

University of North Florida

Elena Schillinger, Jazmine Sanchez, Christina Suarez- Solar, Connor Gee

University of Tampa

Abby Rodriguez, Vanessa Davila

Auburn University

Lauren Pieper, Amanda Lazzara, Kayla Eckermann

University of Mississippi

Gretchen Swenson, Samantha Cano

Florida Southern College
Louisiana State University
University of Nebraska
Belmont University

Jazmine Sanchez, Audrey Diaz

Marquette University
Stetson University

Emma Zazzero, Samantha Cano

Embry–Riddle Aeronautical University
Florida Southwestern State College (athletic commit)

Alyssa LoSauro ('18) said, "It is a great feeling to know where I will be going next year since pretty much our whole grade doesn't know yet. Knowing where I will be for the next two years allows me to focus on my future and prepare to be successful for the rest of senior year."