Academy Changes AP Exam Policy
February 22, 2018
As second semester continues, students have started to think about next school year, specifically the classes that they will take. During a curriculum assembly on Feb. 5, 2018, students were instructed to have individual discussions with their teachers and college counselors about their personal placement in various classes.
Alongside new additions to the school curriculum, which includes classes such as AP Microeconomics, Academy will be enforcing new policies during the 2018-2019 school year. For example, students who choose to enroll in an AP class will now be required to take the corresponding AP exam at the end of the year. Previously, Academy allowed students to choose whether or not they would take the AP exam.
Katherine Rodriguez ('19) said, "Personally, I think people will now be less willing to take harder AP classes because they will be afraid to take the exam."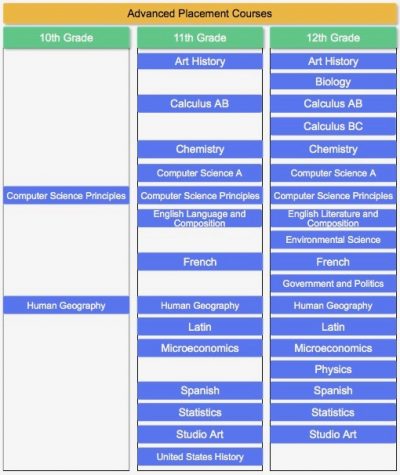 If a student passes the AP exam, they are eligible for college credit for that course. In order to pass, the student must earn a three or higher. The highest score is a five. In addition, the exam costs $94 to take. In the past, students who chose to take the AP exam were required to pay the fee themselves. However, since taking the exam is now required, Academy has decided to pay the fee for the students.
Latin teacher Ariana Louder said, "I think that it is great that the school is paying for the AP exams because it will encourage students to try harder in their AP class because they know they will take it. Some students might pass their exam who wouldn't have otherwise attempted the exam."
Here's a quick overview of what you should know about the upcoming AP Exams. https://t.co/UM4TFAutMO https://t.co/5KAZXrdM1d

— The College Board (@CollegeBoard) February 14, 2018
Teachers are emphasizing the importance of taking an AP class if the student has an authentic interest in the subject. When students were not required to take the exam, several students enrolled just for the AP credit. Academy hopes that by making all AP exams mandatory, students will sign up for classes that they will excel in.
Victoria Hifko ('20) said, "I wasn't really focused on not having a choice on whether or not I would take the AP exam. I was more focused on the importance of having an exam that will show how well I have learned the material throughout the year. Also, I think that it is a good change for the people who could not afford to take the exam in the past."
The class request form officially opens on Feb. 21, 2018, and students must submit their choices by March 6.