Academy Students Attend the 6th Annual Pro Life Youth Rally
February 28, 2018
This year marks the 6th annual pro life youth rally, where students from the Tampa Bay area gather together for the pro-life movement. Each year, Academy students are offered the opportunity to travel to Mary Help of Christians for the rally.
Kelsie Killian ('18), president of the Respect for Life club says, "I think it is very important to have Academy not only be represented at the rally, but also to gain experience and knowledge. From previous years of going, I know my passion for the pro-life movement has grown tremendously. There is something about being with teens my age who share the same passion all gathering and learning to make a difference that makes it a truly unforgettable experience."
The rally began at 9 a.m. and ended at 2 p.m. The day was kicked off with a mass, followed by a keynote speaker who shared her story. This years keynote speaker was Leah Darrow, Catholic speaker and former contestant on the show America's Next Top Model.
Following the speaker, students broke into groups for workshops and different activities. Throughout the day, there were fun things such as music, dancing, and giveaways to celebrate the movement.
Haley Hemmings ('18) says, "I think it's good that we are able to go to the rally through the school because we are a Catholic school and haven't been able to make it to the March for Life in D.C. for the past two  years."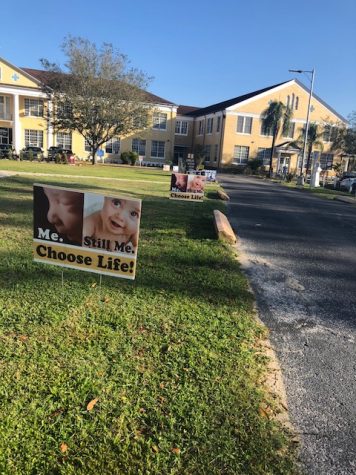 Katie Holland, Campus Ministry Coordinator says, "Leah Darrow had a great pro-life message that related to chastity and not losing sight of your identity and being pressured into doing something that goes against your values.  She was a normal teenager, who always loved fashion.  She made some bad choices during her high school days, and it wasn't until she was 25 while she was working as a model at a photoshoot that she realized how unhappy she really was.  She had achieved all of her goals: fashion week, picture on a cover of a magazine, image in time square, but she still felt empty. She talks about that moment as a defining time in her life where she really decided to live for God alone. It was amazing."