Speech and Debate Team in the Heat of the Season
February 20, 2018
As the school year starts to wind down, the AHN Speech and Debate team's season begins to excel. The Academy of the Holy Names Speech and Debate team, which consists  of twenty members, is devoted to speech and debate activities. The team has already competed at multiple events and successfully achieved qualifying awards.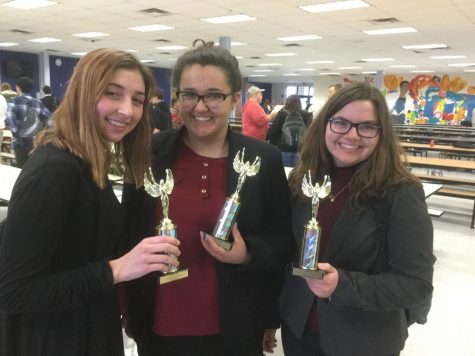 On Jan. 12, the team competed at the American Legion Oratorical Contest at Post 5 in Tampa. Sydney Lowman ('19) and Kelsey Barton ('19) both delivered two speeches on the American Constitution, civic duty, and the the Second Amendment. Lowman placed first and Barton placed second.
The other team members, from Jan. 12-14, spent a weekend with coach, Jamie Meyer, at the University School In Fort Lauderdale, competing at Sunvitational.  Hira Khan ('19), Audrey Gabbard ('19), and Isabella Salgado ('20) competed in two separate events. Khan in Domestic and International Extemporaneous Speaking and Salgado and Gabbard as a duo team with excerpts from a play.
On Jan. 20, the team competed at a Florida Gulf Coast Catholic Forensic League Tournament at Dixie Hollins High School. Megan DeVaney ('19) took third place in Oral Interpretation and Gabbard and  Salgado placed third in DUO Interpretation.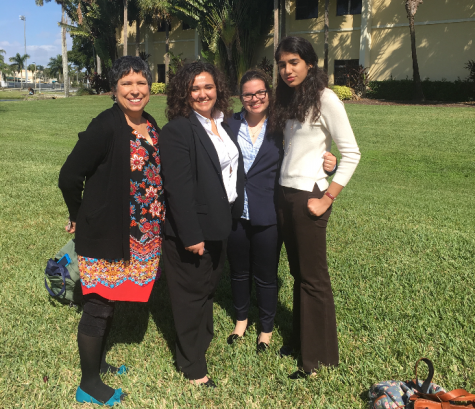 DeVaney ('19) said, "I love the competitions and delivering my speech. It can be stressful, but if you plan out your time accordingly, it isn't too bad, I have national qualifiers on February 23rd and 24th, so if I make top six at that tournament, I will be going to Nationals. The event I compete in is called Oral Interpretation and there are two parts to it- prose and poetry. I love the event because there is a lot of acting involved and pieces are typically very personal to whoever is presenting- it makes the event that much more powerful."
Most recently, on Feb. 3, the team competed at the Florida Forensics League Region 3 Tournament at King High School. All five members in attendance, Salgado, Khan, DeVaney, Gabbard, and Chloe Moussa ('20), qualified in their respective events and will compete at the Varsity State competition in Orlando March 2-3.  
The AHN Speech and Debate team will continue to compete for the rest of the year in hopes of qualifying for NCFL and NSDA Nationals, as they did in 2017.