Sweet Soul Begins Trending in SOHO
February 22, 2018
Recently a trend has sprung among the Academy community and Tampa Bay area, Sweet Soul. Sweet Soul is a superfood bar located in SOHO that sells vegan soft serve shakes, açaí bowls, smoothies, and a few food snack items. Their unique smoothies and açaí bowls have been posted on many social media platforms, which has caused this trend to start.
Alexandra Fonseca ('18) went to Sweet Soul for the first time on Sunday, Feb. 11.
Fonseca says, "I got the pink dragon smoothie and I thought it was really good. It's interesting to see exotic fruit in their smoothies like dragon fruit. The employees are all super nice and interact with the customers well."
When building your bowl they have a four step process to create the perfect bowl for you. They offer a variety of bases: açaí blend, pure açaí, green blend, dragon fruit blend, and a few others. To build up your bowl they have many different fruit options, and toppings such as granola, almonds, and chia seeds. To top it all off, you can choose from a variety of drizzlers or dusters to add on top of your bowl such as peanut butter, honey, matcha powder, chocolate chia drizzle and a few others.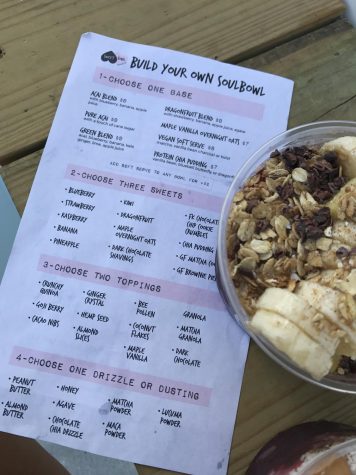 Jessica Barr ('19) went to Sweet Soul a few weeks ago, but was not able to actually get anything.
Barr says, "I was planning on getting on açaí bowl with fruit and granola, but when I went they ran out of açaí and they said I would have to wait 45 minutes so I left without getting anything."
Sweet Soul is closed Monday's but open Tuesday-Friday from 9 a.m. to 8:30 p.m., Saturday 9 a.m. to 4 p.m., and Sunday 9 a.m. to 3 p.m.