Talia Sharrieff Interns at Pattinis
February 5, 2018
On Friday, Jan. 26, 2018, Pattinis Bistro and Skate hosted a teenage event that senior Talia Sharrieff helped to coordinate through an internship. Pattinis was where academy hosted their 2017 formal dance and prior to event, Sharrieff went to Pattinis to check out the venue. Although Pattinis was closed, the owner was there and talked to Talia about possible teenage events.
Sharrieff said, "I want to be an event planner so when I was fortunate enough to meet and talk to Pattinis owner, I offered to help with any events and she offered me an internship on the spot."
Sharrieff was the first teen intern hired at Pattinis Bistro and Skate and her job consisted of narrowing down venue ideas for the teen event, making a flyer for the event, and promoting the event throughout high schools in Tampa. The day of the event, Sharrieff arrived at Pattinis Bistro and Skate early to help sort out last minute preparations.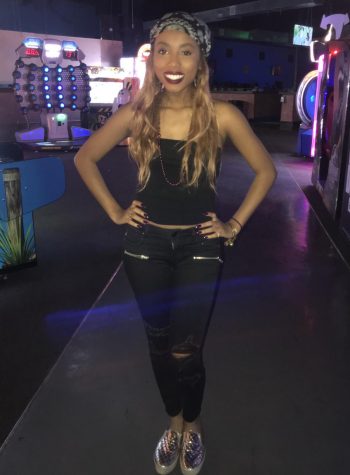 The turnout for the event mainly consisted of freshmen and sophomore Academy girls and freshman Plant High School students. The venue offered food, sodas, and many arcade games for teens who preferred competition over dancing. The doors opened at 8 p.m. and closed at midnight, giving students enough time to eat, play various arcade games, and dance on the dance floor. 
"Even thought there wasn't a lot of people, it was still fun," said Adriana Seise ('21).
Sharrieff has further discussed with the owner of Pattinis to brainstorm ways to revamp the entire idea of having high school student events to incorporate older junior and senior students as well as students from more high schools in Tampa.
"The owner and I discussed flying artists in to attract a wider variety of high school students through entertainment," said Sharrieff.
Sharrieff recently got accepted to the University of Central Florida where she will pursue a degree in event management at their hospitality school and plans to be an event intern at an Orlando hotel or attraction in order to apply for Rosen College that requires two years of internship to be accepted into the hospitality management college.
Sharrieff said, "I like the staff at Pattinis and the exposure it gives me along with bouncing ideas off of the owner. I hope to still have that relationship with the owner through college."
The Gasparilla Invasion event was a trial run and the first of many high school events at Pattinis Bistro and Skate.