DR Mission Trip Approaches a Milestone with its 19th Trip
March 23, 2018
As the longest running Academy mission trip, boasting an impressive 19 years and counting, the Dominican Republic trip has always been characterized by its fearless leader, chemistry teacher Rebeca Zambrano. However, this year, Zambrano could not attend the trip because her daughter would be expecting her first children, twins. Therefore, Zambrano stayed in Tampa and entrusted the trip to the adults and senior leaders.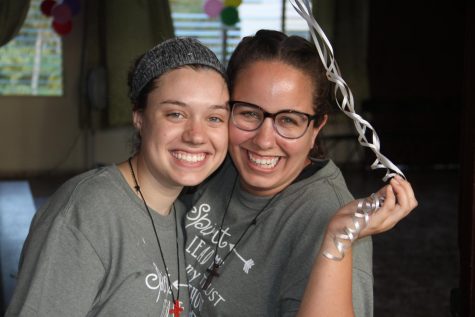 Art and Foreign Language teacher Paige Rodriguez (A'12) (left) attended the trip while she was a student at AHN. After returning to Bayshore as a teacher, she was invited to return to the DR as an adult leader. Without Zambrano, Rodriguez took on many more responsibilities than in previous years.
"Without Mrs. Z, I was somewhat anxious about the trip because the last time I went as an adult leader, we all relied on her so heavily. She has such a deep knowledge of the people, culture, and expectations that the people have of us, and I was worried about not having that wealth of knowledge to rely on when difficult situations came up. Her 18 years of experience in the Dominican means that she has the answer for anything and everything! But, she prepared me to be successful in two ways: she gave me all the technical preparation I needed, and was involved in planning up until the moment we left, even seeing us off at
6:30a.m.
 at the airport! But- she also prepared me by building my confidence with continuous words of encouragement and support. This made an enormous difference for me- knowing she believed in me gave me confidence I needed to follow her example. I did buy an international data plan- just in case- so I could call her if I needed to! I only had to panic call her once or twice."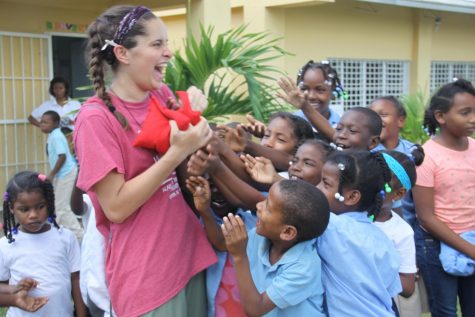 Following tradition, the DR mission trip had a jam packed week, days lasting from 6:30 a.m. to midnight. Although exhaustion was present, great food, familial encouragement, and an infectious energy helped to keep students motivated. Tasks included multiple shoe fittings with over 1000 pairs of shoes, visits to impoverished families, building and painting three sets of cornhole to be distributed at local schools, multiple english immersion classes with high school and university students, preparation of both food and a song for a party thrown for the sisters at the sanctuary, painting two homes, caroling to the sick, and more.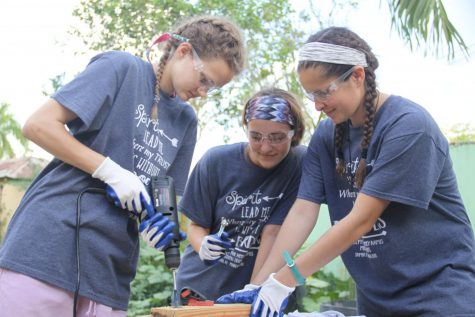 Macy McConnie ('18) was one of the students that attended the trip as a junior, and returned as a leader of the show drive for her senior year.
McConnie says, "I mainly handled the shoe drive, which was stressful at times, but so rewarding.  [Prior to the trip] when I walked into my house with shoes organized and covering my entire living area, it felt incredible. I knew with that many shoes, with all different shapes and sizes, we would really be making an impact on a large amount of people. Since we had so many and I had zero clue about how many suitcases we had, I worried that we would be in a dilemma where we couldn't take them all. Thankfully, it all worked out and we helped impact the lives of hundreds of people."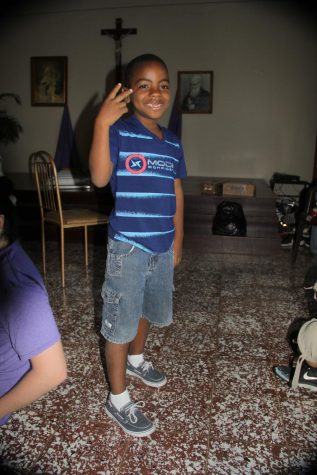 Students on the Trip
Katherine Hahn ('18) (leader)
Evelyn Martinez ('18) (leader)
Haley Palumbo ('18) (leader)
Alex Smith ('18) (leader)
Macy McConnie ('18)
Gabby Galvez ('18)
Elizabeth Diaz ('18)
Maddy Ruppel ('18)
Feraby Hoffman ('18)
Erica Dierks ('18)
Isabella Thorpe ('19)
Ashley Dingle ('19)
Sydney Lowman ('19)
Lauren Dingle ('19)
Gloria Bufano ('19)
Rodriguez says, "I have been four times and this trip stood out as extra special. This all came down to our group of girls- the 15 girls meshed with one another and complimented one another strengths so beautifully. The support, positivity, joy, and peace I felt during the week was so replenishing before starting the 4th quarter."