AHN's Prom Makeup Options
April 23, 2018
Before prom, some students decide to make appointments to get their hair and makeup done, while others would rather do their own.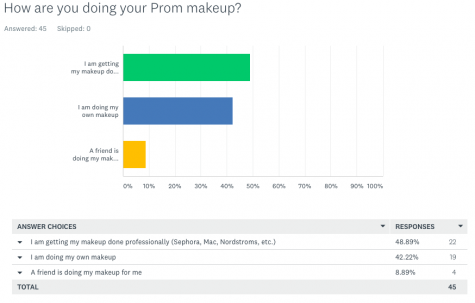 There are benefits to both getting your makeup done professionally and to doing your own makeup for events.
Mckenna Weathers ('18) says, "I did my own makeup for prom because I am kind of picky when it comes to certain things, so I like to do my own makeup how I like it."
Alexandra Fonseca ('18) says, "I have a makeup artist come to my house and do my makeup, and I use her for every event."
Cristina Suarez- Solar ('18) says, "I got my makeup done at Beauty Lounge and Salon and, since  it was my first time, I really enjoyed it because I did not have to stress about doing it myself."
Getting prom makeup done professionally at Sephora, Mac, or Nordstrom can be more relaxing because there is not a lot that must be done besides sit in a chair and tell the artist what you want.
Fonseca says, "The benefit of having her is that she comes to my house so I don't have to rush to anything and I can relax all day."
Ella Jurusz ('19) says, "I find it to be a lot easier to get your makeup professionally done because it makes getting ready a lot less stressful."
Sophia Doussan ('18) says, "I got my makeup done by the same guy who did my makeup for Homecoming Court earlier this year."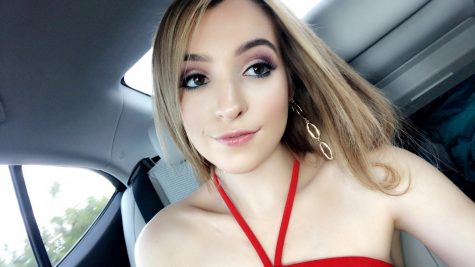 "I felt that this was the best option because it was my last prom and I wanted to go all out, and I always end up getting to buy a bunch of new makeup to add to my collection," says Doussan.
Some prefer to get their makeup done because they are not as skilled at doing their own makeup, while others prefer it because they feel pampered.
Alyssa LoSauro ('18) says, "My friend did my makeup for prom, and I usually have a friend do it because it looks just as good as it would if it was professionally done."
"I was able to tell the artist exactly what I wanted and the makeup stayed on super well and lasted all night," says Suarez- Solar.
Students who do their own makeup save time and money by using materials they already had.
"It is cheaper to have a friend do it since I don't have to pay for it, and sometimes makeup artists put on way too much makeup," says LoSauro.
"I think it is a really good option as well because if you do not like it, you can easily change it without worrying about wasting money," says Weathers.
SaveSave