Evelyn Martinez Wins Gasparilla Community Fund Scholarship
April 23, 2018
On Monday, April 17, Evelyn Martinez ('18) was announced a winner of the 2018 Ye Mystic Krewe of Gasparilla Community Fund Scholarship. Achona had the chance to sit down with Martinez and learn more about her scholarship.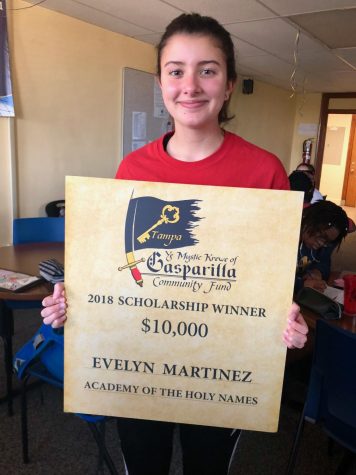 Achona: When did you apply for the scholarship?
Evelyn Martinez: "I applied in November, but I didn't hear that I was a finalist until February. I found out that I had won the same day as everyone else. They told me they were going to email me, then a pirate showed up to school."
A: What was the application process like?
EM: "It really wasn't that bad. I had to write a 500 word essay and then fill out a form about what clubs I'm in and how much community service I've done."
A: Were you surprised when you won?
EM: "I was a little bit surprised. There were twelve finalists and only five people won money. I thought that I had a decent chance, but after seeing all the incredible finalists, I was a little unsure. Although, I'm really grateful to be one of the five winners."
A: What does this scholarship entail?
EM: "I won 10,000 dollars over four years. So I get 2,500 a year and it can go towards whatever I want: room and board, books, tuition."
A: How competitive is this scholarship?
EM: "I hadn't realized how many people applied until they told me it was over 100 people. It's pretty selective and competitive because they only send the application to certain schools in Tampa. The interview process was probably the hardest part. I had to sit down with a few people from YMKG (Ye Mystic Krewe of Gasparilla), Morgan Farrior's ('19) dad being one of them. We talked about Bye Bye Birdie for a solid ten minutes."
A: Finally, how do you feel about winning this scholarship?
EM: "I was super happy because it pays a  semester of room and board. I'm very grateful."
SaveSave