Class of 2018's Favorite Memories
May 7, 2018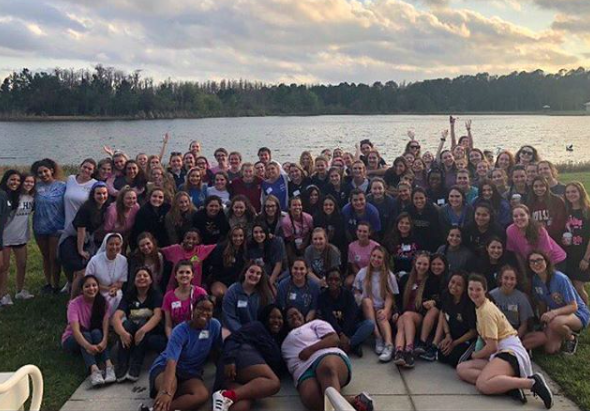 As the Class of 2018 begins to say their goodbyes and reminisce about their time here at AHN, several seniors shared their favorite high school memories.
The Chicken Mini Incident
Emily Venezia ('18), remembers the incident in which the Class of 2018 bum rushed a tray of food at a college fair that was not for them.
Venezia said, "When we had that college fair last year and thought the chicken minis were for us, only for Keegan and Dwyer to murder us all because apparently the 50 trays of chicken minis were for the 30 college reps."
Kardashian Trivia
Isabel Toranzo ('18) recalled a time in her English Honors class, where she and her classmates were trying to figure out how much pop culture their teacher, Virginia Pendleton, was in the loop with.
Toranzo said, "With [Virginia] Pendleton I spent, no joke, 25 minutes explaining to her the whole Kardashian family history. I had visuals and videos to help her out and then I quizzed her. She failed."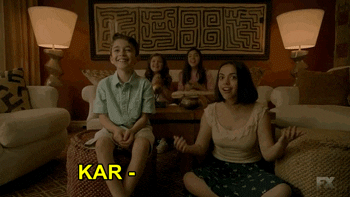 Mia Torres ('18) Becoming a Meme
Melanie Krueger ('18) recalled the day of math mid-term exams in 2016, when Torres was so overdone and tired, that she fell down the main staircase and didn't even have the energy to get up. Soon, a picture of Torres was posted to the class Facebook page, and a new meme was born. Torres herself, and classmate, Gracie Wipfli ('18) even put the photo on their shirts for the Senior Sleepover.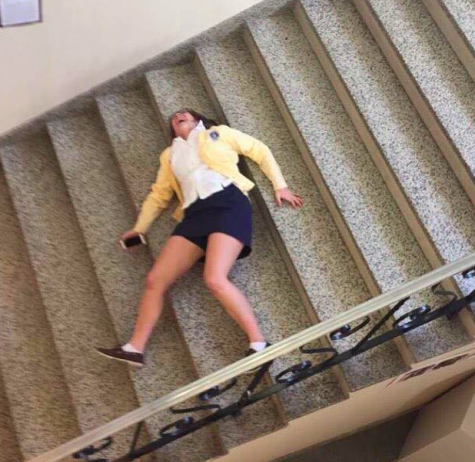 The Boston Marathon
In 2014, Melissa LeBlanc decided to let her Freshman English Honors class play a game of Catchphrase at the end of class, when the lesson was over, and Alexis Alvarez ('18), received "The Boston Marathon," as her prompt. Alvarez ran in place, and then flung herself across the room, all because she thought her prompt was the Boston Bombing. LeBlanc still laughs at the incident when it is brought up, which is often.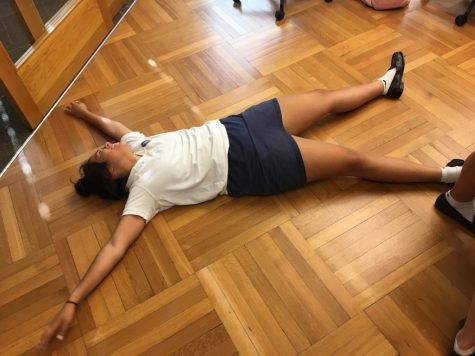 Defending Junior Ring
Soon after any Junior Ring ceremony, social media platforms exploded with posts of girls with their classmates, family members, and even teachers showing off AHN's traditional ring. However, after the Class of 2018's ceremony, boys from another school began trash-talking the posts. Feraby Hoffman ('18) remembers "fighting with Brett Sandborn," about his comments, and how every girl in the class got involved.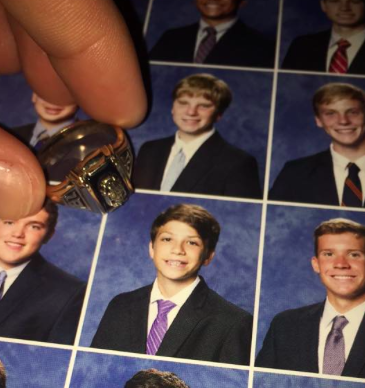 Hotline Bling
One of the most iconic moments of 2016 was Maddie Obregon ('18) and Alex Smith's ('18) dance, during a spirit week pep rally, to "Hotline Bling". The tradition of Obregon and Smith's dances continued to the next pep rally in 2017, and then the Christmas show at the end of 2017.
https://twitter.com/maddieobregon12/status/695774620130131968
https://twitter.com/maddieobregon12/status/826471392963076097
Slytherin's Common Room
During spirit week in 2017, the Class of 2018 came out victorious in the battle of the locker room decorations. Every person in the class participated, by either making a Dark Mark stamp, bringing in posters, hair and face paint, or even green table cloths to put over the lights. That spirit week played a huge part in bringing the class together.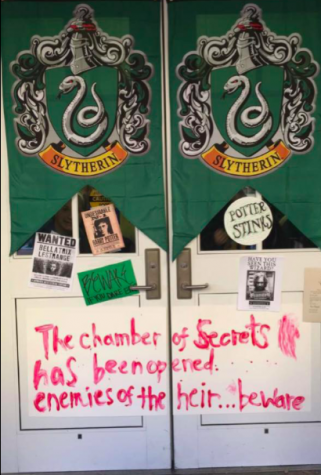 SaveSave
SaveSave