Academy Introduces Health for Life
September 25, 2018
In the recent 2018-19 school year, Academy of the Holy Names now offers a new course called Health For Life. Health For Life is taught by Elizabeth Suskauer, and it teaches students about foods, exercise, and mental health. Prior to this year, health was a part of a course called Fit For Life, but faculty and staff believed that it was vital to create a new course to keep the students healthy and happy.
Audrey Boos ('20) is currently taking Health For Life and enjoys it so far.
Boos says, "It's important to have Health For Life as a course at school because it teaches students about their bodies and how to stay healthy throughout their lives. Personally, this information is important to me because it has taught me lessons that can help me in the future."
Boos works out three to five times a week with a lot of motivation, especially from taking Health For Life.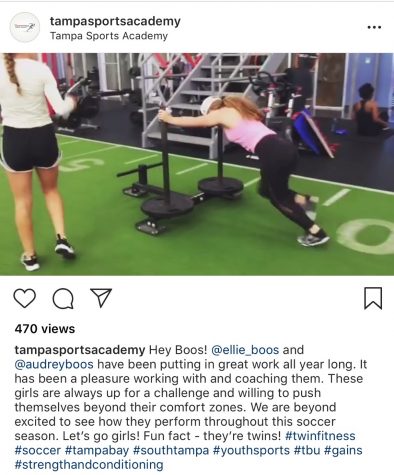 Health For Life is now a mandatory class at Academy because of the importance of physical and mental health. This course not only teaches the students about the right foods to eat and how often they should exercise, but also how to deal with stress or emotional instability.
Angelina Gonzalez ('20) says, "It's interesting because you learn about what is truly in your food that you never knew, and how it can affect you in your day to day life, as well as your future health."
The goal of this course is not to emphasize weight loss, but to inform students of the importance of eating the right things and exercising.
Suskauer says, "Knowledge is power, especially when it comes to your health and eating well. If students understand the importance of sleep and taking care of their bodies, they will become empowered by that. My main objective of this course is to have the students make better choices that will ultimately help their health and wellness. Also, I hope this vital information will encourage the students to stay physically healthy on the inside and outside of their bodies, staying young at heart."
In class, students watch documentaries on foods to avoid, advice to live healthy, and motivation videos. Similarly, they do activities that allow them to give specific examples of physical and mental health, such as the input and output of calories, dealing with troubles, and relaxation. Worksheets are also an important element in this class because they emphasize the main causes of death in America, foods with high sugar levels, and tips on staying healthy.