Senior Class Shares Mental Glo-Ups
September 20, 2018
The senior Class of 2019 changed in many ways throughout the past four years. They had to adjust mentally in order to end up in a good place now in senior year. The change could be through finding their personalities, realizing the right friend group, figuring out their educational needs, or putting more focus on their overall lifestyle.
After the four years at the Academy, seniors feel excited and prepared to go to college, as well as to make new impressions there.
Isabella Bahr ('19) says, "Freshman year, I was pretty mentally stable, but over the course of four years, I did become more outgoing and sure of myself because of the atmosphere here at AHN. I think my change will help in college, so I do not feel judged, and I can be outgoing."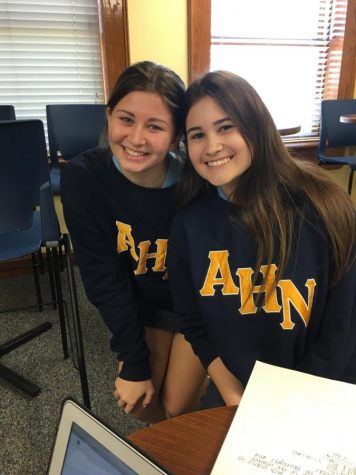 Senior Brooke Breeze ('19) agrees with Bahr that the AHN environment led her to embrace herself.
"I definitely changed because I figured out more about the type of person I am through high school experiences. My friends changed from the beginning of freshman year because I met new people, which allowed me to become more of the person I am today based on the people I surround myself with," says Breeze.
Freshman year is an eye-opener for many students because it makes them realize that high school requires a good work ethic in order to succeed. Over the course of the four years, students understand and adapt to the physical and mental energy that needs to go into their school. 
Gabi Mellody ('19) says, "I realized that I actually needed to work on my grades in order to get into the colleges that I wanted. After freshman year, I put overall more effort into all my grades."
Attending AHN also develops the students into well-rounded, mature women. As a freshman, life is in a personal bubble, and there is little awareness as to what is happening in the world around them. The Academy shapes the students to be more curious and caring towards events that occur to others.
"I also feel like I am more informed about issues in the world, and I have a better understanding about life in general. I am able to look at the bigger picture of things," says Breeze.
Freshman year: prints schedule, finds classes a week in advance, and puts on a new outfit for their first day

Senior: Throws phone out of anger when alarm goes off, hasn't even see where there Class is, and wears jeans that have a stain from taco Tuesday last week

— Charlotte M. Hudnall (@charlotte_m_hud) August 28, 2018