Academy Announces Changes Made to Homecoming Court Application
October 3, 2018
On Wednesday, Sept. 26, Academy announced the new application for Homecoming Court. There are several changes made to the application process. The biggest change being that juniors from Academy are now able to apply to be on the Homecoming court. Although, only a senior can be selected as Queen.
"I think that it is good that they are allowing juniors to run, and maybe next time they will allow all of  grades to run [for court]," says Madison Bissett ('20).
Vice Principal Erin Krukar sent out an email to the entire high school, about the new changes and the application for Homecoming Court. "Maddie Obregon ('18), Alex Smith '18, Mrs. VP, and I went over to Jesuit last year to discuss our concerns, and how these are our girls, so we want to have more of say and a piece in the process," says Vice Principal Erin Krukar.
There will now be a Selection Committee, which are the officers from Student Council, from both Jesuit and Academy. This committee will select who will be on the court.
"Jesuit emailed us, and reached out to say that they want the court to be more selective, and that they wanted Academy to have more of a say. It is now not as much about looks, but more about the person. We want someone who embodies Academy," say Student Council President Chanita Belcher ('19).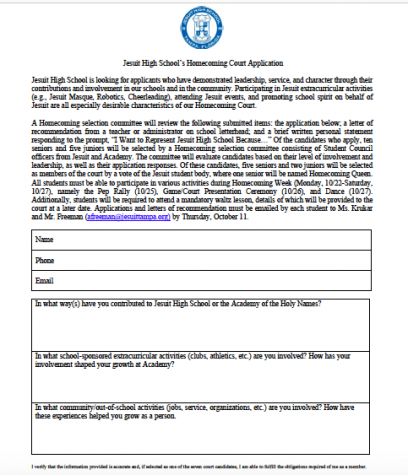 There will be ten seniors and five juniors on the court. To make up the final court, students from Jesuit will select five seniors and two juniors. Out of the five Academy seniors, the seniors from Jesuit will vote on a Queen.
To apply, students have to complete the application, have a teacher recommendation letter, and write a personal statement. One of the biggest changes made to the application, is that students do not have to submit a video, which many people are happy about.
"I like the new changes in the application, because we don't have to make the video and now Academy has more of a say in the votes. The application isn't that stressful now mostly because we don't have to make the video," says Blakely Byrd ('19).
In order to be considered for Homecoming Court, everything must be turned in by Tuesday, Oct. 9. The Jesuit Homecoming game, where the Queen will be announced, will be on Friday, Oct. 26.