Class of 2019 College Updates
February 22, 2019
Since the end of senior year is nearing, many seniors are starting to commit to colleges. There are about two months left for seniors to decide where they want to go, so they still have time. Seniors Emily Abdoney, Alexis Ortega, and Caitlin Neal have signed to their college for their sport, while some have committed by doing early decision or regular decision.
Some students are planning to be roomates with their close friends at Academy, like Megan DeVaney and Olivia Fernandez.
"I'm most excited for getting to decorate our room and doing fun things we've wanted to do in high school, but haven't gotten the chance to do. The transition will definitely be much easier because now I'll have my best friend with me," says DeVaney.
Here are the colleges students have enrolled in:
Brooke Breeze, Megan DeVaney, Olivia Fernandez, Lindsay Ayers, Meredith Hemmings, Isabella Leandri, Rachel Porter, Isabella Bahr, Bailly Gray, Myah Rhines, Rebekah Eicholtz, and Victoria Wheling
Theresa Tulsiak and Lauren Dingle
Madison Chandler
Florida International University
Tiffany Arnao
University of South Florida
Chanita Belcher
Bella Brooks
Several students, like Brooks, decided to stay more local and have found roommates that are from the Tampa area.
"I'm excited for college because it will be a new experience, and I will have more responsibilities. I found my roommate on Facebook. She goes to Berkeley, and we have a lot in common. I am going to Rollins College, and it is over in Orlando," says Brooks.
Megan Scanlan, Kate Sweeney, Brooke Jennings, Riley Kayton, Lilly Martinez, Gelmi Pasquier, Regan O'Leary, and Mckenzie Diaz
Sarah Kate Murphy and Ashley Dingle
Anabela Ebsworth Llavona and Emily Abdoney
Caitlin Neal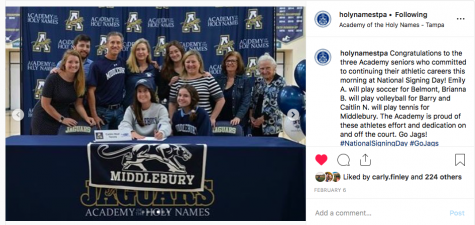 University of Colorado – Boulder
Chloe Boos and Mackenzie Ker
Jaclyn McCauley, Adrianna Radice, Summer Wolf , and Alondra Quinones
Brianna Benito
Hanna Skelly
North Carolina State University
Alexis Ortega
Alexis Ortega ('19) has known since November that she will be on the gymnastics team at North Carolina State University.
"It was nice that I have known for a long time, because I have been able to meet people, and that is one of the things I am most excited about. I am excited about meeting new people, having new experiences, and being independent. I'm super excited [to be on the gymnastics team] because it's different than the gymnastics I do now because it's more of a team thing. I'm excited to be a part of a sport that is way beyond just myself," says Ortega.