(Photo Credit: Regan O'Leary/achona online/ used with permission)
AHN Career Day 2019
March 5, 2019
AHN's second annual Career Day took place on Feb. 25 and 26. This year it was much larger and open to all students while last year it was only open to juniors and seniors. There were two sessions each day which both took place during advisory. Students were able to sign up for sessions with professionals in career fields they were interested in. "I thought that it was helpful to listen to people in the career fields that I am interested in to see if it is something I actually wanted to pursue," said Abby Mclachlan ('21).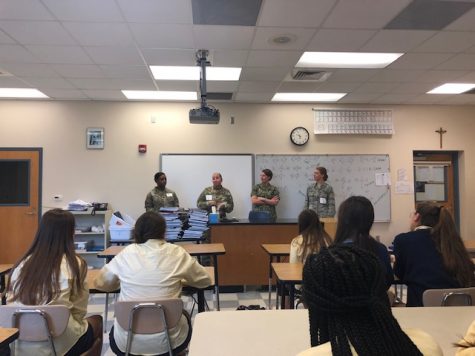 Many of the sessions featured AHN alumna and AHN parents. "My dad came in for one of the sessions, it was interesting to listen to him talk about what he does [financial advisor] because I never really taken the time to sit down and learn more about what he does," said Fallon Flaharty ('19).
Students were able to hear from a wide variety of professionals in several different career fields, like James Castano, an FBI agent of 20 years, to Nicole Matuska, the Learn Manager for Women Win, an organization that uses the power of play to help adolescent girls and young women build leadership skills and become better equipped to exercise their rights.