Mini Course Week To Become Service Week in 2019-20 School Year
March 25, 2019
In the 2019-20 school year, mini course week will be changing into service week. The week will now  be dedicated to service work around Tampa and Mission Trips, all mission trips will still be offered but only for juniors and seniors to attend. There will be no college trips, Disney trip, or any activities offered at school.
"It was a decision that school president Art Raimo came to after speaking with campus ministry and looking at mission trips, Raimo decided as a school we need to be more involved in service" said assistant principal Erin Krukar.
"I'm upset that only juniors and seniors are allowed to go on mission trips next year. I did not go this year as a freshman because I was planning on going on one next year and now I can't," said Britton Byrd ('22).
Kim Wiley and Katie Holland from campus ministry will be planning service opportunities on and off campus for the student who stay at AHN to give the week more of a mission trip experience for those who do not attend.
https://www.instagram.com/p/BvH7dVPnj0Q/
In order to go on college trips during mini course students were required to attend two schools outside of the tampa bay area, get a slip signed by an admissions officer from each school, and write a paragraph about their experience from each school. 
"I think that is is a loss for the underclassmen not being able to go on college trips during mini course because for a lot of girls, it is the week where they visit and narrow down the schools they want to apply to. My junior year I went on college trips and found the school that fit me best. Without mini course, I feel that I wouldn't have gone on those college visits, " said Kate Sweeney ('19)
The opportunity to visit schools with excused absences is something that many girls take advantage of in their junior and senior year to decide on the schools they want to apply to or attend, however, some used the week to use the word "college trip" with a very broad meaning. 
"I don't think that college trips should be taken away completely but I think that some students did abuse the option for college trips and used them as vacation rather than actually attending the schools they claimed to be visiting," said Olivia Martinez learning resource specialist.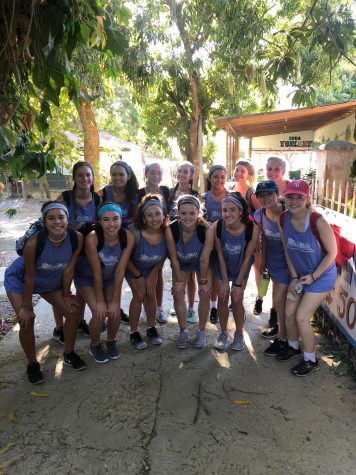 Mini Course Week has been run by History teacher Dana Nazaretian for 14 years who coordinates the college trips and the activities offered at school. "I'm disappointed  because I feel that the students have a lot of fun during mini course and is a good stress reliever during the homestretch of the school year. It is also a great time for girls to visit colleges they are thinking about attending and also participate in internships around Tampa," said Nazaretian.
As of right now, there are no clear plans as to how the week will run except for the fact that students who stay on campus will do community service work Monday through Thursday and have the day off Friday.
"Personally I think that it is better for mini course week to be more about service, I've attended the Scranton Mission Trip for the past three years and it is something that I look forward to all year. I think that everyone should have that mission trip experience and be able reconnect with God through service," said Katie Jones ('19)