Seniors Jump into their Last Day of School with the Running of the Halls and Senior Pool Party
May 6, 2019
May 3 marked the end of the school year for seniors (except, unfortunately, AP exams) with the annual Running of the Halls and Senior Pool Party.
Each year, AHN seniors begin on the 4th floor, run through the halls each floor, race across the bridge, and jump in the pool, although the majority are out of breath by the time they get to the pool.
Riley Katyon ('19), who is attending FSU, said, "It [jumping in the pool] honestly felt so good because that was much more of a workout than I thought it was going to be. I'm very sad to leave Academy. It's had such a huge impact on me."
Student Council, as every year, was in charge of creating a theme, decorating the pool, providing smoothies and a small gift, and music for the senior pool party which lasted for about an hour after the seniors jumped in the pool.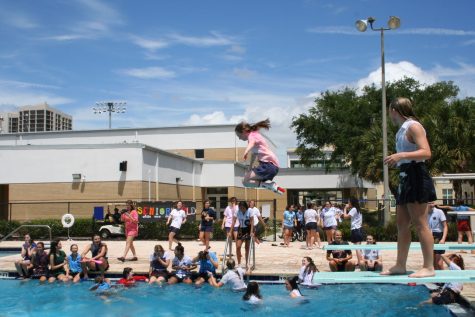 The theme was Seniorworld modeled after Travis Scott's album Astroworld. Music was the overall theme for this year's class because during the creative process, the members of Student Council came to the conclusion that the Class of 2019 is very creative, whether that be in music, dance, or art.
To go with the theme, different colored guitar keychains were given to the seniors along with a smoothie from Xtreme Juice.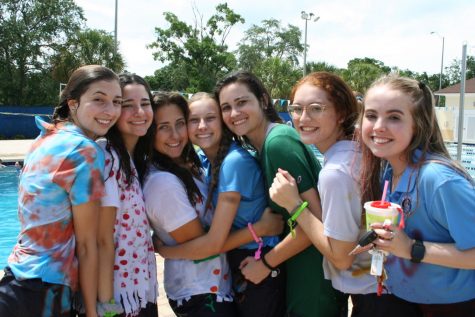 Members also wrote cute, inspiring messages on the floor using chalk starting from the main building to all the way to the pool.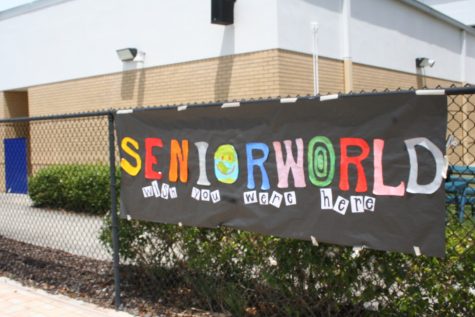 Dorothy Pickard ('20), a junior Student Council Representative, said, "I wrote the chalk on the sidewalk and inspiring messages. Student Council has been preparing for this for probably like a month. Well, this is my first year on Student Council, so it was really fun to be a part of it [the pool party] this year, and I wish I would have done it previous years, but I'm happy that I did it this year. It felt nice to be a part of something for the seniors because this was a really great class. I'm so excited to be a senior next year, but I'm also kind of sad because I like this school and my friends."
This was their official last day of school. However, AP exams take place starting May 6 in the gym. They graduate on May 22 at the Straz Center for the Performing Arts.
Rebekah Eicholtz ('19), attending UF, said, "I was really tired [from running], but it made all of the four years of crazy memories worth it. I'm going miss Academy a lot, but I'm mostly gonna miss all of my friends and being able to see them everyday."