AHN Implements New Advisory Program
September 10, 2019
On Aug. 14, it was announced to the AHN population the creation of a new homeroom structure. The time allotted for a supervised Advisory period every weekday, excluding Wednesdays, will be shared with the same advisor and students throughout all four years of high school. 
This revision surfaced after school counselor Emily Pantelis and Principal Stephanie Nitchals attended an advisory conference over the summer, where they were introduced to the program and its benefits. 
"The new advisory format to me is one to help build a community among the girls. I'm really excited about the idea of having the consistent advisories for the girls to travel with all up through senior year. I think that's really going to create great bonds between everybody and really build that sisterhood among the girls," said Erin Krukar, assistant principal.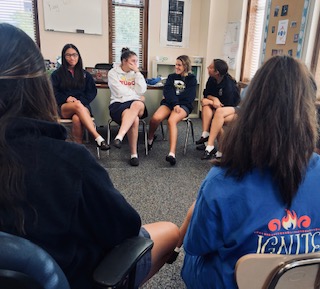 In previous years, advisories were short study halls after first set where students had the opportunity to get work done or meet with teachers. This new program is another way to spend the time allotted for the period between sets. 
"A lot of times during advisories, girls are just wandering around, and just maybe not using the time as well as they should have and we just felt that we were missing out on an opportunity to bring the girls together, to share information with them, go over kind of almost convocation-like topics, but that would reach people better in a smaller group setting. So we feel like we are going to be able to broach some more important topics with the girls this way, in the small group setting," said Krukar.
Unfortunately, underclassmen and upperclassmen will not have the same exposure to this program. Although all four grade levels will be traveling with their advisory classmates and teacher, the varying number of years will make the experience different for each grade. 
https://www.instagram.com/p/B1wBEZdF4rr/?utm_source=ig_web_button_share_sheet
"Definitely for all the underclassmen, after we graduate, I feel like they are going to get pretty close with each other in their advisory classes. I'm curious to know, though, if they'll get bored of being with each other from knowing each other so well after at least three years if they're going to be able to have a chance, maybe their senior year, to switch it up just to get to know other students more. But I like that idea of getting to know each other more and more, especially as a freshman. It's exciting," said Sofia Tweed ('20).
The freshman class, who going are the first class to go through all four years together, is having a more comfortable time transitioning to this new program. 
"I like it because then it's not like I have to meet new people or remember new people's names and it's not going to be a completely different teacher with completely different people. I'm going to see the same people all the time. I like the activities because it's nice to hear how everybody is doing and stuff like that. I'd probably get really confused if I was a sophomore or junior or something like that," said Raquelle Elson. ('23)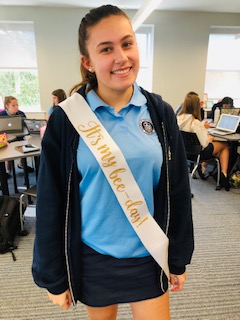 The community aspect of advisory is already starting to show through. A freshman advisory, moderated by Melissa Cox, already has a group name and has created class traditions. "The Hive" was named after the idea of having a collective group mentality of a hive: one big family. Cox also admits to liking bees and Beyoncé, both of which contributed to the establishment of "The Hive". The advisory has a birthday sash with a calligraphed "It's my bee-day!" written in honey-gold letters. This group looks forward to three more years together and to grow and learn from each other in that time. 
"My goal is – would be if I'm giving my opinion on it – would be what I said before about building a community. Really kind of trying to increase school spirit among everybody, this idea of maybe having little competitions among advisories, 'How many people can you get to the volleyball game tonight?' 'Well, we can probably get more.' Kind of building that little fun competition among everybody. To help do that and help, again, just build that camaraderie among the girls, and build relationships between faculty and the students so that students know that they always have, at least – hopefully, it's more – but at least that one person on the faculty that they have a connection with that can help them out," said Krukar.
https://soundcloud.com/chonanline/pants-advisory