What Factors Affect Seniors' College Decisions?
October 31, 2019
The senior class is feeling the pressure of college their first semester.  Applying to college is one thing but choosing where to go is another.  There are multiple factors that affects their decision such as school spirit, campus location, campus size, housing, Greek Life, religion, diversity, and study abroad programs, just to name a few
The Academy of the Holy Names prepares you for college but once the process of choosing where to go based on your test scores, GPA, financial circumstances, and personal opinion is a little trickier.  Luckily, thanks to college counselors the choice gets easier once they help you see what type of college environment is right for you.
the amount of things that i stress about that have to do with me getting into college is so sad

— cait (@caittoconnelll) October 5, 2014
"I pay attention to the environment of the school and the attitude of the students attending that college.  That's important to me since I am going to be spending the next four years at that school. I consider myself a positive, hard working person so I want the students around me to have a similar mindset," said Breanna Vanderleelie ('20)
One factor that motivates students' decisions is the size of the campus. Arizona State University, University of Central Florida, and Ohio State University have over fifty-thousand students per grade.  High Point, College of the Holy Cross, Furman University have no more than six thousand students per grade.  Bigger schools mean more students per class, a bigger student-faculty ratio, and more students.  Smaller schools tend to offer more one on one services and smaller class sizes.
"I like the campus to be clean, pretty, and small enough to know where I am going.  A clean campus will make me feel like I am taken care of and motivate me to go to class.  I don't want my classes to be too far apart from one another. I tend to be attracted to smaller campuses because I like knowing all my classmates and learning in a smaller environment will benefit me most," said Madison Bissette ('20).
School spirit and the location of the campus are factors that motivate students as well.  When a school such University of Tennessee Knoxville, University of Florida, and University of Alabama is known for having a lot of school spirit, it often motivates applicants to want to attend that school.  Some students want to be at a school that has a lot of activities to do outside of the campus.  Living in a big city, smaller city, country, middle of nowhere, or literally anywhere motivates students decisions based on what environment they want for themselves.
"The city life and the location of my college campus is a huge factor in my college decision.  I know I want to live in a bigger city with a lot of leisure activities to do. I feel like a bigger city creates a lot of job opportunities and internships for me to grow as an adult in the future," said Kennedy Wilson ('20).
Greek life, for some students, is a big deal.  They hear their siblings, parents, even grandparents talk about it and know that's something they want to be apart of in college.  Some colleges don't offer Greek life and at some smaller private universities, Greek life isn't as big of a deal.  University of Alabama, Florida State University, and Ole Miss are bigger schools known for their Greek life.  There are over twenty-six sororities to choose from and each offers a lot of different opportunities for students.
"When I go to college, I really want to be a part of Greek Life.  My sister is a KD at Florida State and watching how many friends, activities, and opportunities her sorority has provided her really draws me towards joining Greek Life.  I love going out and doing fun things with my friends so a school that has fun things to do is a major factor for me," said Ava Oliva ('20).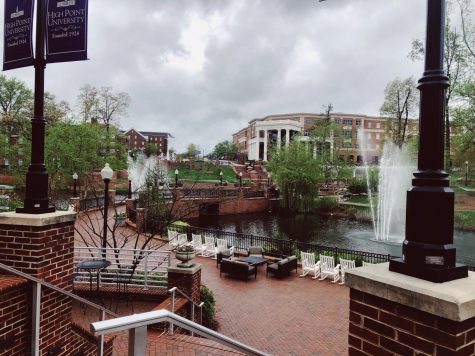 Religion doesn't affect every students decision on where they want to go but it does affect some.  University of Notre Dame, Catholic University of America, and Liberty University are some of the schools that known for their focus on religious studies.
"Faith is really important to me.  Catholic University is one of my top schools because it's religious.  I want to feel close to God when I'm hundreds of miles away from my family.  Still having the opportunity to go to mass, learn more about my faith, and growing closer to God really draws me towards schools that are accepting of any sort of religion," said Sofia Tweed ('20).
Diversity in a school is never a bad thing.  Some students may even view it as a way to prepare themselves for the future.  The ability to relate to people with different cultural backgrounds is a key factor to many students decision making.
"I would want to go to a college with cultural similarities within my college.  Coming from a hispanic background is something I am proud of and would want to share with future friends I meet in college.  Overall I am excited to make new friends and hope to find other people who share similar views," said Gabby Consalvo ('20)
The ability to study abroad is a true blessing.  Many students study abroad and travel to countries all over the world.  This allows students to experience a new cultural, language, environment, educational system and pushes them out of their comfort zone.
"I have wanted to study abroad since I was a freshman.  The thought of waking up, learning, and getting to spend the day in a place like France or Germany sounds amazing.  I make sure the colleges I am applying to have study abroad programs because I know that is something I really want to experience in college," said Halston Seton ('20)
All in all college is what you make of it.  The process of choosing colleges to apply to, actually applying to those colleges, getting into college, choosing where to go and then going to college is just the beginning.  Setting goals for yourself, growing into an independent adult, and making the most of your college experience is all up to you.
Congrats to you and your kid for getting into college! Now comes the hard part: Choosing the right one. Use my tips to guide you. pic.twitter.com/Ifn6Yt0fYz

— Beth Kobliner (@BethKobliner) March 28, 2019