The Sophomores Attend CPR Training
December 9, 2019
On the morning of Dec. 5, the sophomore class received CPR training in the gym. The training did not just consist of CPR but also came with AED and first aid training. The sophomores became certified in all of these categories for two years within the American Red Cross.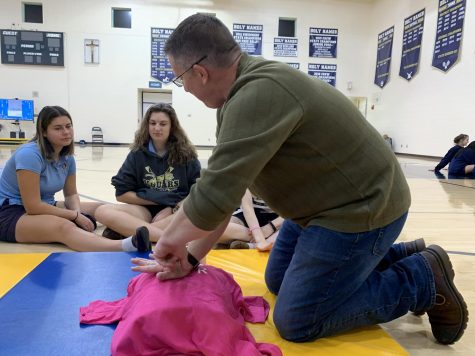 In the training, the sophomores learned one-man CPR, with and without mouth to mouth resuscitation, and two-man CPR with and without mouth to mouth resuscitation.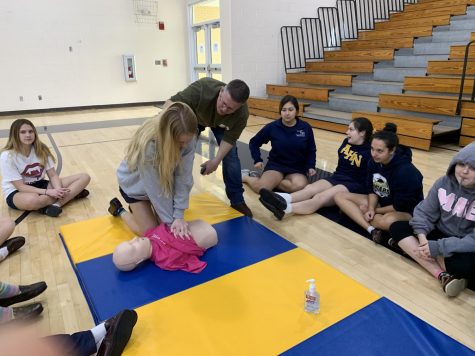 Health and Physical Education teacher, Betsy Suskauer, was in charge of planning the training. Suskauer said, "I am very excited that we are bringing back the training. It will prove to be helpful to them in the upcoming years. It is very nice to have the ability to help someone if needed."
After completing the training, the students will have received a card in their emails proving they received and passed the training. The training can be helpful for jobs, babysitting, summer camps, and basic safety. 
Some of the basic safety learned was what to do if someone ever gets bitten by a snake, spider or gets stung by a wasp or bee. A video watched showed helpful tips and tricks on what to do if someone is having a stroke, seizure, or heart attack.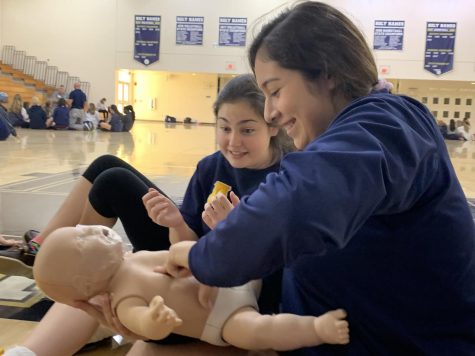 Alex Fanaro ('22) said, "We learned how to give CPR to an infant, adult, and child. We learned how to give the Heimlich maneuver. We also learned several safety precautions about various injuries including, snake bites, spider bites, heart attacks, and seizures. We also had dance breaks. I didn't have much fun because it was a lot of information to retain. I think it will be helpful in the future. However, I am glad I know how to give CPR and that I did not have to go to class."