Unplugged: the Student-Directed Singing Event
January 11, 2020
On Thursday, Jan. 9, Unplugged took place in the Bailey Center for the Arts at 7 p.m. It was open-mic event with no auditions; students could pick their own music and sing a solo, duet, or trio.
This year's theme was "The Music of Our Lives", and, as such, singers wrote one to three sentences explaining why they chose to sing their particular song and the feelings it provoked. Posters were displayed in the lobby with each singers' reflection.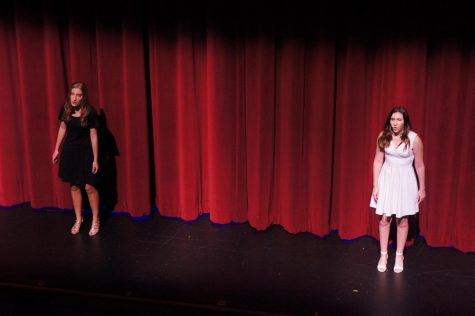 Unplugged was not only a fun, noncompetitive event for students, but it also allowed students to be free to choose their props and clothing as well. Singers chose what kind of backdrop they wanted, whether they preferred a mic stand or hand-held mic, and if they wanted to sing acapella or with a track or piano. 
This event was mandatory for the high school choir, the Quarter Notes, so this proved to be heavily participated, and other students and Academy alumni sang as well.
Kennedy Wilson ('20) had a special, secretive guest singer which was revealed on stage — former Academy student and Quarter Note Casey Tevlin ('20). Also, over the summer Caroline Lamoureux ('20) and Academy graduate Robin-Sailor Zander ('19) wrote a song in which they performed together for the first time at Unplugged.
Stage Manager Julianne Bland ('21) says, "Robin and Caroline's original song was soo cool. They are the best duo. The talent at Unplugged was really surprising. There was a huge variety of songs. It was a really nice combination."
The Setlist. 
Lily Megerian 
Sarah Aschenbrenner and Kaitlin McHugh
Ellie Warnke
Erin Hendrickson
Julia Dean and Crista Guevara
Sophie Odmark and Abigail Chudzinski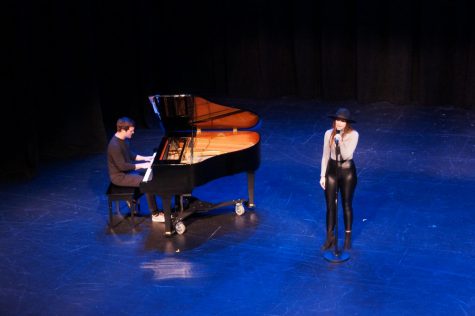 Amari Cole
Taylor Schweitzer and Olivia Lucas
Bethany Masiello
Alex Fanaro
Emma Elder, Maria Kynkor, and Laurèn Colquett
Peyton Finn
Kennedy Wilson and Guest
ACT II
Leah Solomon and Kathia Guzman
Coco Jacobsen and Crista Guevara
Casey Rodriguez
Martina and Emma Leavy
Anna Reins
Delaney Ross
Andie Rogas and Sofia Tweed
Lauren Lidros, Megan Bryant, and Emily Porter
Adriana James-Rodil
Sarah Mounce
Danielis Baez
Carolina Lamoureux and Robin-Sailor Zander
Arianna and Bella Cortés
Unplugged is a great event in which students can showcase their talents in a freeing and imaginative, stress-free environment which is a sharp contrast to the often grueling, hard day-to-day school routine.
Quarter Note Sofia Tweed ('20) says, "To prepare for Unplugged, we do put in a lot of time and effort, especially because it happens right after Christmas break, but it's a wonderful experience to just celebrate everyone's unique talents. Even those who aren't Quarter Notes, it's really nice to see them take the stage and show off their singing skills because we miss out on seeing them in other activities. It definitely reduces stress to be a part of Unplugged, since there is no grade or competing involved at all. In a way, because you're not stressed out about it, you're able to just focus on your true passion of singing, really let loose, and just enjoy your time on stage."