AHN Celebrates Catholic Schools Week: Grandparents Day and Jagball
February 2, 2020
Catholic Schools week is an tradition upheld by Academy every year. This year, it started with Grandparents day on January 27th and ended with Jagball on January 30th.
Grandparents Day
On January 27, 2020, students from all grade levels gathered with their grandparents to begin Catholic Schools Week with an Academy tradition. Following a new format, the students met with their grandparents after even day classes.
Starting with mass, students ate lunch provided by Sage, and enjoyed performances from the Quarter Notes, the instrumental ensemble, and Academy dancers. The music chosen for the event was catered toward the older generations, the Quarter Notes singing "Downtown" (Petula Clark) and "You Don't Have to Say You Love Me" (Dusty Springfield), senior Maggie Jaap showcased Rose Etude No. 3 (Cyrile Rose) in her solo performance, and the AHN Instrumental Ensemble playing "Matchmaker" and "My Favorite Things".
Following the mass and performances in the Brady center, students took their grandparents on a tour of the newly renovated floors, introduced their family to their teachers, and had the opportunity to take pictures with their family.
"I usually don't get to go to mass with my grandma I get to do that and show her my classes at Academy. I see her often but she doesn't always know what's going on in my life, so meeting my teachers and seeing my school will be fun," said senior Maddie Boos.
Jagball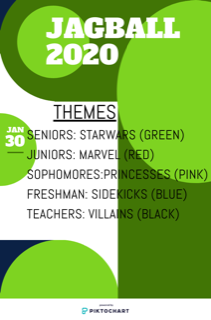 On January 30th, dressed in their grade's theme, the freshman through senior classes gathered in the gym after the day's classes. Participating in a dodgeball game, the seniors claimed a victory over the freshmen, then the juniors over the sophomores.
A donut eating contest then commenced, junior Rachel Troy taking the win. The infamous "hungry hippo" competition gave the seniors another win, while the new "balloon run" gave the sophomores their first victory.
The ultimate champions were crowned after two dodgeball games, one a tiebreaker, making the juniors the victors of Jagball 2020. 
"I think Jagball is a really fun tradition that brings each grade together. Everyone gets to represent their grade and either cheer from the stands or have fun participating," said junior Brooke Kubiak.