AHN's Poetry Out Loud 2020
February 4, 2020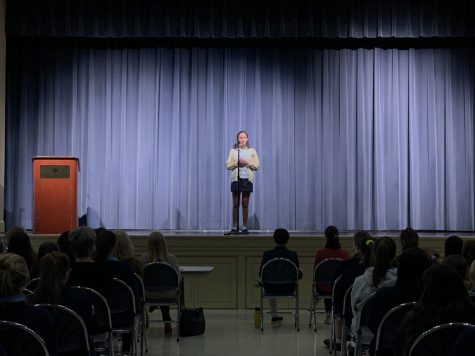 For the 11th consecutive year at AHN, students have participated in Poetry Out Loud , a national education program that encourages the study and recitation of poetry. Through this program, students practice public speaking skills, gain confidence, and attain a new passion for poetry. Poetry Out Loud begins in the classroom which continues on to the school-wide competition where students advance to the state competition. After placing in the state competition, students can advance to the National Finals in Washington, D.C.
Students are scored upon several categories including physical presence, voice and articulation, and dramatic appropriateness. 
On February 3, 2020, the four grade-level winners of Poetry Out Loud competed in a school-wide competition in the Brady Center during an assembly on Monday morning. Natalia Guzman ('23), Leslie Sanchez ('22), Catherine Neumeister ('21), and Mei Lamison ('20) recited poems in hopes of advancing to the state-wide competition at the University of South Florida. 
For the school-wide competition, students had to choose two poems from the Poetry Out Loud to recite during the assembly. Judges for the competition included English teachers Alison Jussaume and Lauren Oetinger, arts teacher Sister Lisa and Beth Chase from the history department.
When asked why they chose their specific poems for the competition, students answered:
"I chose 'I Heard a Fly Buzz When I Died' because of the simplicity of the concept of the poem that slowly becomes more complex as you read it," said Guzman. 
"For my second poem, I decided that I wanted to lighten the somber mood invoked by my previous poem. I scrolled through the "Humor & Satire" category on the Poetry Out Loud website and settled on "The Properly Scholarly Attitude." There wasn't much analysis of the poem to be found online, so I interpreted its dramatic objection to academic pressures to resonate with my life and the experience of most students, especially those at the Academy," said Neumeister.
"The reason I chose these poems was because they spoke to me as I looked over the website. I felt impacted by their words and meaning and decided to do those for the competition," said Sanchez.
"I always choose poems that I can have a personal connect too. As much as I love poetry surrounding subjects like marriage, or war, or working life, I feel like I cannot fully empathize and covey the message of the poem having not experienced the content," said Lamison.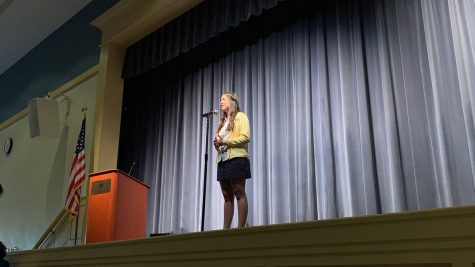 Some students shared their experience practicing for Poetry Out Loud:
"I prepared for poetry out loud by splitting up my poems into sections and everyday I would memorize a section until I memorized the whole poem. Then I just stood in front of my mirror and practiced constantly everyday until the competition," said Sanchez.
"To prepare for "Caged Bird," I watched recitations of the poem online. This gave me a better understanding of the pacing and tone I would need to apply when reciting the poem. I also made use of tactics employed in Method Acting by recalling history in relation to the theme of the poem to evoke the emotions I would need to engage," said Neumeister. 
The assembly concluded with Lamison placing first, Neumeister in second, and Sanchez and Guzman placing third and fourth, respectively. Lamison will be advancing onto the Poetry Out Loud State Competition on February 29 at the University of South Florida.
"I am very excited to go back to states. I am also so incredibly thankful and amazed by Natalia, Leslie, and Catherine. It was truly an honor to speak on the stage with these beautiful, talented, and poised young women," said Lamison.