The AHN Freshman Experience in 2020
September 23, 2020
Starting high school during a global pandemic has its challenges, but the class of 2024 has gotten off to a great start. Both Freshmen learning online and in-person all had similar feedback regarding the first few weeks of high school. 
Freshmen began the school year by attending a freshman orientation on Aug. 17 and 18 — hosted by Student Council. They were split up into two groups over two days and got to run through their schedule, meet their teachers, and make new friends.
Freshman Regan Hernandez, who attended middle school at AHN said, "The orientation was a great way to meet new people and get our questions answered. [I liked that AHN] didn't just throw us into a new school without any information or friends. They told us what to expect." 
The orientation provided freshmen with a time to ask questions and learn about their schedule when they were organized into small groups with upperclassmen. And, as the building was not crowded, student council members were able to show the freshmen around the building at their leisure.
Sophia Johnson ('24) also mentioned orientation made it "easy to navigate through [her] schedule and classrooms because there were no upperclassmen." 
Check out this story to read about the beginning of the school year! https://t.co/N5wEFb9AzM

— ACHONA ONLINE (@AchonaOnline) August 20, 2020
Virtual Freshman, Josie Chapuis attended the orientation via Google Meet. Chapuis said,"my group talked to a super helpful student rep. She was nice and enthusiastic."
Chapuis said this calmed her nerves about starting high school virtually. 
On the first day of school, all students were wearing masks and were socially distanced which made it challenging to meet new people. In speaking to some current freshmen, however, many have found ways to get around this. 
Johnson said, "I found it easy to socialize with people before and after lunch." 
Hernandez agreed that before and after lunch was easiest to socialize and mentioned that hearing the other person talk in the Brady Center, where freshmen eat, was "especially hard during lunch because you can only speak to one person who was sitting next to you at a time."
On the other hand, being social was difficult when attending school online. Chapuis said, "It's hard to interact with peers," and mentioned it was more difficult when it comes to group activities. Working with classmates and meeting new people can be quite a challenge when it is through a screen. However, the AHN teachers have made great efforts to involve online students as if they were there in person.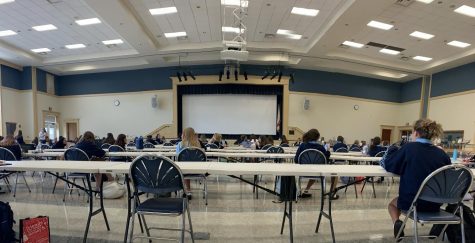 Although the social part of high school was challenging Chapuis said, "The teachers do so much for us at this school, and they just go the extra mile for us."
There was excitement surrounding making new friends and being in a new environment, yet in general, being a freshman is difficult when it comes to learning a new routine, schedule and still maintaining grades.  
The freshmen have been loving the school workspace in terms of the classroom and the high school being all girls. Hernandez said, "It is very welcoming, there was no peer pressure or judgment, and having all girls was nice. The all-girl experience was less stressful and builds self-confidence." The school environment was also easy to get around because of the one direction stairs. Hernandez had liked them because "they were less crowded, not as many jams, and there was a nice flow." 
All aspects of learning, virtual, and in-person have its positives and challenges. "The school year has been a positive experience so far and the transition has been very smooth," said Hernandez.