The Year Without a Homecoming
October 16, 2020
Due to COVID-19, large gatherings are not permitted, which has led to traditional homecoming dances being cancelled. 
The pandemic prevented last year's prom and most graduations. Now, it is postponing or cancelling homecoming. Since the pandemic has already taken away so much, parents and kids are determined to make this year different. Some parents are going around schools and planning private homecoming dances. 
While school officials' main focus is the safety of their students, students still want a normal school experience. Homecoming celebrations typically take up a whole week of festivities and are regarded as one of the best weeks of the year. The week ends with a pep rally, football game, and a dance.
Maddie Hines ('23) said, "Homecoming being postponed makes me sad, but it still gives me hope that it's going to happen. Either way, my friends and I plan on going or having a fake hoco to celebrate." 
All around the country, people are finding new and creative ways to make homecoming week or dance happen. 
We loved celebrating Homecoming with our #DragonFamily last week! This year's theme, #DragonsRise, was chosen months before we realized how fitting it would be this year in particular. Though the pandemic made some modifications necessary, a good time was had by all. pic.twitter.com/blCd9hC9pT

— MSU Moorhead (@MSUMoorhead) October 6, 2020
In Northeast Ohio,  Karen Kolar, a mom, rented a pavilion, came up with a list of safety precautions, and posted a flyer on social media for homecoming. Tickets were $15 and only students who went to North Royalton High could attend. 
In Ohio, Swanton High School's student council refused to take no for an answer.  They moved their homecoming dance to the Field of Dreams Drive In Center. The theme was carnival and each grade got a t-shirt with their ticket.
Many Academy girls have also found their own ways to celebrate with other AHN girls, or friends from different schools. The hashtags #NOCO or #FOCO have become very popular lately, showing that students have no homecoming but are still capable of celebrating.
Marina Romer ('22) said, "For Tampa Catholic's Homecoming, I went with my friend Riley to take pictures, go to dinner, and then go to a party. We took pictures at Riley's house then everyone ate somewhere different. We ate at California Pizza Kitchen for something fast yet good and after eating we all went to a party at a friend's house."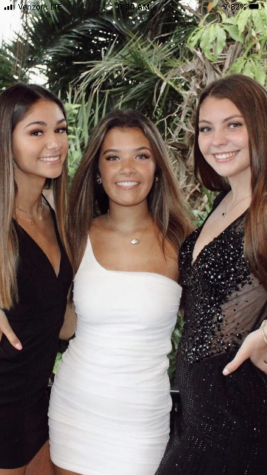 At Jesuit, the Thursday night homecoming pep rally is still happening and the Homecoming Game will take place on Oct. 16. The Jesuit Homecoming Court, which was voted on by the boys on Oct. 6, has five Academy seniors and two Academy Juniors: Zeta Bennett ('21), Samanatha D'onofrio ('21), Elizabeth Gold ('21), Elizabeth Newcom ('21), Cecilia Williams ('21), Bella Besece ('22), and Ava Polasek ('22). However, the dance has been postponed until March. 
Sam Donofrio ('21) said, "I am hoping that the dance will happen in March but I am so happy to have made homecoming court and to have that part of my senior year."