Why Do Academy Girls Have MacBook Stickers?
December 3, 2020
At AHN, students customize their MacBooks and iPads with stickers. Stickers are a great way for girls to express themselves and share their interests. Especially since uniforms can stifle creativity, a large majority of students have chosen to use stickers to creatively personalize their technology and express their individuality. 
Julia Dean ('23) said "I believe that having stickers allows us to express ourselves and our personalities. Having stickers on your computer can also connect you to people through similar interests, some that you would never know about unless you saw their stickers. I also believe that it is fun to see the pop culture stickers on my friend's computers, especially when it is something that I have never seen before."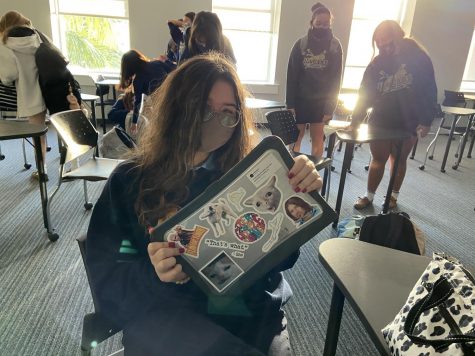 Stickers are good conversation starters, especially this year because COVID-19 has made it harder to get to know people. They are also a great way to see if you have something in common with someone.
Jenna Fonsing ('23) said "Macbook stickers help one get to know the different personalities of other people. It's cool to see how one's personality is shown through stickers." You can learn a variety of things through someone's stickers for example their favorite movie, show, or band."
Academy girls also use stickers to show off their personality and interests or even just to make their MacBook match their aesthetic. Due to this, students can learn a lot about somebody from their MacBook and iPad stickers.
Hannah Ribinski ('23) said "I think students put stickers on their laptops to express themselves. They can put stickers of their favorite TV shows, sports, or hobbies that they enjoy."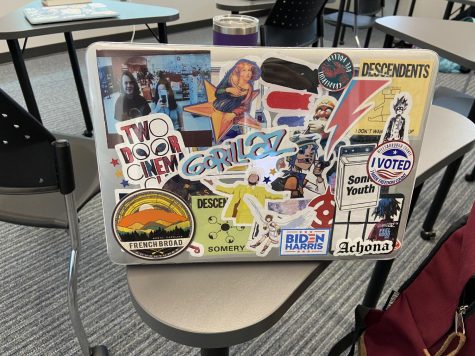 Most students find their stickers on a website called Redbubble. Redbubble is a great place to find stickers for almost anything that you are interested in because it allows people to upload their own designs or browse from other people's designs. Redbubble is popular among AHN girls because it has such a vast variety of stickers to choose from.  
Maddie Hines ('23) said "I like my stickers a lot because they describe me very well. I have food stickers such as pizza and fries because those are some of my favorite foods. I also have inspiring quotes to help me get through the school day. And lastly, I have a sticker about Tik Tok because it's my favorite app."