Senior Angie Peña Scores her 1,000th Basketball Shot
January 20, 2021
Senior Angie Peña made a large mark on her basketball career and community on January 7, 2021 when she scored her 1,000th basket. Peña says she originally started out playing tennis when a friend suggested basketball to her in 5th grade, and immediately fell in love with the sport. She currently plays Point Guard on AHN's basketball team and is the thirteenth Academy student to reach one-thousand basketball shots.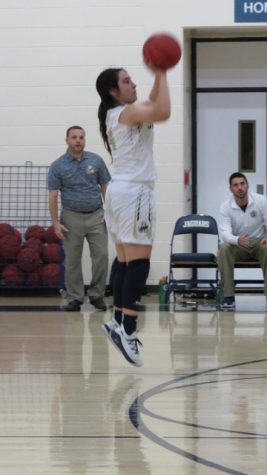 Angie Peña ('21) says, "I've been playing for around 8 years (starting initially at Nativity, then moving to Skills Center and Tampa Thunder). I have always love my team and my game. When I  made the shot I immediately called time out because I was so shocked. It felt fun and exciting at that moment and I really felt I was doing this for my brother, Victor Peña."
Peña had some hardships during her time on the court, in her freshman year (2017-2018) she had only scored sixty-four points which discouraged her from pursuing certain positions on the team. The team also had a losing season in her sophomore year (2018-2019) that affected her performance and confidence while playing. 
Peña's favorite moment on the AHN team was during the past Mitchell game holiday tournament because of how thrilling and fun it had been. Sabrina Pedregal ('22) says, "Playing basketball has been so awesome this year because of Angie. I really love the sport because of how close our team is to each other and how supportive we are and Angie is. I'm so proud of her!"
Sophia Pyne ('22) says, "Angie is a great player on the court and a really good friend. I was so happy for her when she got the shot I could feel her excitement! She's my favorite senior player on our team, a great friend and I really think she deserved this accomplishment."
View this post on Instagram