AP Computer Science Begins their Final Exam Project
February 19, 2021
In these next few weeks, Academy's AP Computer Science Principles Classes will begin planning their final projects. AP computer science is a basic coding class where students learn the fundamentals of computer coding and how technology and data affect everyday life. 
Kate Petitt (23) said, "My project is an app that decides what movie to watch. So you pick the genre you would like to watch and you input the time you have to watch it and it'll pick an option for you based on the things you enter."
The project is called the "Create Performance Task," which is assigned by College Board.  Students design an app of their choosing and create it during a 12 hour period, which is all done during school hours. These projects will then be submitted as part of the final AP exam and will account for 30% of their grade. Students will turn in the written code, a video of their app working, as well as written responses explaining different parts of how the program functions.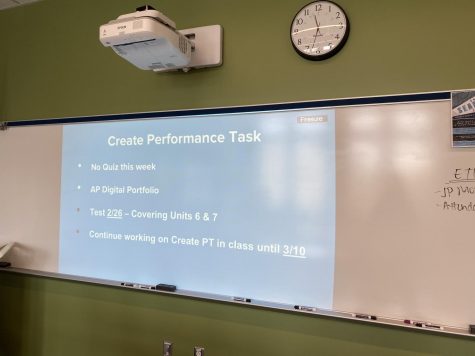 AP Computer Science Teacher, Tyler Mokris said, "I think the classes are going to do well.  We've learned all the techniques and skills they need to be successful so far, [and] they have all the knowledge. They just need to apply it and make sure they are clear and writing things the right way."
A notable achievement has also been that Academy has won College Board's AP Computer Science Female Diversity Award for the third year in a row. It is an award that the College Board gives as a way of honoring schools that expands women's access to computer science classes. 
Engineering Teacher Anne Wynn said, "We are so excited that our Computer Science program has expanded and there are so many girls interested in taking the courses. It is really encouraging to know that AHN is sending young women out into the world who will be able to succeed in STEM fields if they choose to pursue those paths."
With AP computer science, engineering, and other classes, Academy offers a wide spread of stem electives that are available to women who want to choose to pursue a career in science.
View this post on Instagram