"Unplugged" Goes Virtual
February 5, 2021
On Sunday Feb. 2, the video for Unplugged, the annual student-directed singing compilation, was sent to the student body via email. Normally, Unplugged is one of three nights during the student-directed series, but due to Covid regulations it was filmed. This year, Sophomore Delaney Ross ('23) and Junior Emily Porter ('22) organized and directed Unplugged.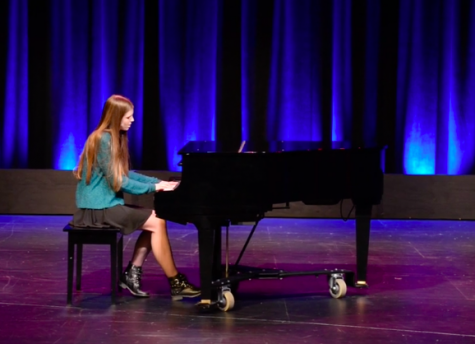 Maria Kynkor ('21) sang "No Matter What" by Calum Scott.
"Although I don't directly relate to the reason why Calum Scott wrote this song, I do relate to loving someone no matter what. So I changed some of the words in order to sing to someone rather than to myself, and I believe the world needs this message now more than ever," said Kynkor.
Laurén Colquett ('21) and Emma Elder ('23) sang "For Good" from the Broadway Musical "Wicked." 
Colquett said, "This song is very special to us because we sang it when we were freshmen in our Quarter Notes class. And after we sang it and we realized its value, we realized that we wanted to sing it again in our senior year and see how our friendship has grown. As it's our last year in high school and we're leaving soon, we realize that the memories that we've made, and we reflect on all those beautiful memories, and we reflect on how we've grown together and how we've changed for good."
Bethany Masiello ('22) sang "Baby Mine" from the Disney film  "Dumbo." 
"My mom used to sing this to me when I was a baby, and I've loved it ever since then because of how truthfully it portrays a mother's love," said Masiello.
Maria Kynkor, Laurén Colquett, and Emma Elder sang "Just the Way You Are" by Bruno Mars. Elder said, "We chose this song because we wanted to share the message that all of us are beautiful and perfect just the way we are, and we don't have to change a thing because we were made in God's loving image."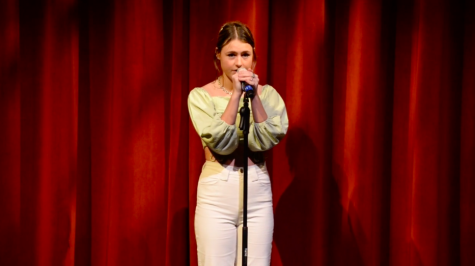 Elizabeth Fuschen ('21) sang "I'll Have to Say I Love You in a Song" by Jim Croce. "Not only was this the first song that I ever sang at Unplugged, two years ago my sophomore year, but it was also my Quarter Notes audition song, so it's kind of just a wrap up now that I'm in my senior year."
Arianna Cortes ('22) sang "Warrior" by Demi Lovato.
Cortes said, "I chose this song because it is a song that I can sing even in times when I struggle."
Sarah Aschenbrenner ('23) sang "Fools Who Dream" from the movie "La La Land." 
"This song is important to me because, personally, I'm a big dreamer with huge aspirations and goals I'd like to achieve someday. This song especially shows me that anyone can achieve anything," said Aschenbrenner.
Erin Hendrickson ('22) sang "Sign of the Times" by Harry Styles. "I chose this song because it's really pretty and it makes me feel really good."
Aydan Sullivan ('24) sang "Don't Rain on My Parade" from the Broadway Musical "Funny Girl"
"This song means a lot to me because it reminds me to stay strong no matter what," said Sullivan.
Lily Megerian ('21) sang "Somewhere Only We Know" by Keane. 
Megerian said, "I chose this song because I have really fun memories of turning up the music and singing this song in the car with my sister."
Leslie Sanchez sang an original song titled "Angel to my Heart." 
"This song is about young love and being with someone who you can imagine your whole future with," Sanchez said.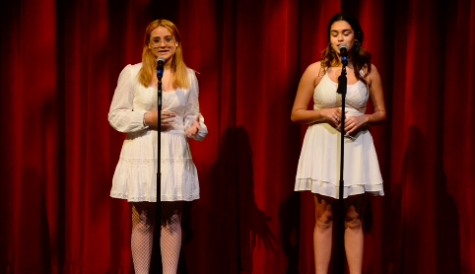 Katelyn Micko ('24) sang "Don't Stop Believing" by Journey
Micko said,  "I chose this song because I grew up listening to it so it is very close to my heart. I also think that no one can stop believing in themselves."
Delaney Ross ('23) sang "The Sound of Silence" by Simon and Garfunkel.
"I picked this song because it reminds me of how important it is to express yourself, your thoughts, and your ideas," Ross said.
The night ended with a speech of gratitude by Ross on behalf of her co-director who could not be there the night of filming.