Powder Puff 2021: Juniors vs. Seniors
March 25, 2021
On Friday, March 19, the annual flag football game between the seniors and juniors took place, known as powder puff. The teams are coached by three Jesuit high school football players of each of the teams choosing. 
Caroline Gomez ('22) says, "Powder puff was so much fun and I grew closer with my classmates. I am so glad I participated this year and cannot wait for next year."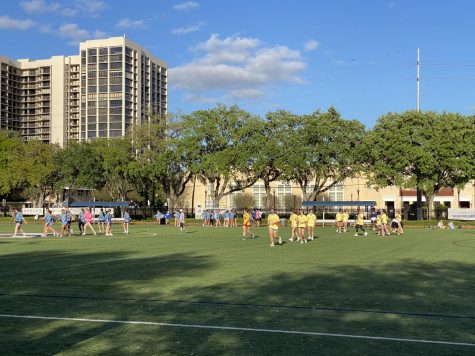 Due to COVID-19, only parents and Student Council members could attend. There was also no Dad's club barbecue this year.  
Abby Mclachan ('21) says, "Powder Puff was super fun and it was one of the last events the senior class will have together before we graduate which is kind of sad." 
With Math teacher Robert Quinn as the reff the girls played two fifteen minute halves. At the end of the second half the score was still 0-0 leading into an over time.
In this overtime, Quinn decided each team could now only have six  players on the field instead of 11. The seniors ended up winning with a score of 6-0. 
Emily Good ('21) says, " I was so excited we got to have powder puff this year since we did not get to have it last year. It was super fun and I was so excited we won."