Academy Takes Annual AP Exams
May 5, 2021
Throughout the month of May, many different AP exams will be taking place. 
The College Board is administering its traditional format for exams the first two weeks of May, and will offer  a digital option at the end of May and mid-June for schools that did not start their school year until after September 1, are still fully virtual, or for any special circumstances. 
Months ago, the AP teachers met with Guidance Administrator Stefanie Zummo as well as the Counseling and Administration Department to review all of these changes and options. 
Zummo says, "Because we have been fortunate enough to have in-person hybrid learning since August, and because many of the digital options interfere with graduation, etc. your teachers felt confident to administer the traditional paper/pencil exams as we usually do at the start of May. Due to their content and timeline, a few courses will be tested digitally a week or two after the paper/pencil exams. Students of these classes currently have full access to the digital program they will be testing on and will be practicing with this program until their test date."
During week one, students will take exams for US Government, Calculus, English Literature, Physics I, US History, Art History and European History. 
Katelyn Butler ('22) says, "I am very stressed about my AP US history exam. I have been using the prep book, but to be honest I do not feel ready. If I pass I pass. If I don't, I don't."
During week two, students will take exams for Spanish Language, Latin, Physcology, English Language, Microeconomics and Biology. 
During week three, students will take exams for Computer Science Principles, Statistics and Music Theory.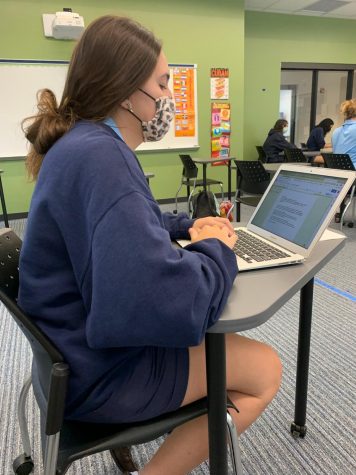 During week four, students will take Human Geography and Chemistry— Human Geography will be administered online. 
For exam security, the digital exam will not allow students to return to previously answered questions or move back-and-forth between unanswered questions. The digital format will include security features that will prevent students from collaborating, accessing unauthorized aids, printing, or attempting to have someone else test for them. Lastly, colleges and universities will accept AP scores equally for all versions of the exam, and a student's score report will not indicate which version of the exam the student has taken. 
"I don't like the online platform for the AP exam because it doesn't let you go back and look at your previous answers. It's going to be hard to adjust because I've never taken an AP test without being able to look at my answers," says Olivia Lucas ('23) who will be taking the Human Geography exam.
All versions of the College Board AP Exam, whether paper or digital, are full-length exams, cover the same content, use the same question types, and, in most cases, have the same number of multiple-choice and free-response questions.
While preparing for exams, your AP teachers are your best resources. Make a study plan/review schedule to help you review your key concepts leading up to your exam. Partake in timed practice tests, especially for free-response questions to help you establish a comfortable pace throughout your exam. And lastly, eat a good meal before bed, get a solid night's sleep the night before, and wake up to a nice breakfast the morning of your exam.