What's Up with the Cross Country Team?
September 28, 2021
Cross country has begun and they are now in full swing with practices and meets. With the new season that has started, the team is working diligently to prepare for upcoming competitions.  
Cross country training began as early as possible, starting all the way back in the summertime. During this time, the team trained 2-3 days a week, according to Elise Favret, the Senior Captain of cross country. However, once school started, their practice schedule was bumped back up to six days a week.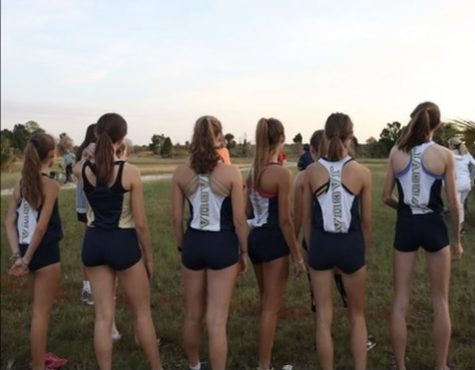 Favret also gave insight on what their practices looked like, and what they do in a typical day of training. She reported that a typical week consists of two days of hard tempo workouts, three days of normal mileage (3-4 miles) with an hour of weightlifting, and finally a long mileage day (7 miles). On race days, the meet replaces the long run day. On the days that include weightlifting in their workouts, the team splits up into two groups: one group runs while the other weight lifts, and vice versa. 
Another aspect of their practice schedule is early morning runs on Wednesdays that are only for the top ten varsity runners. "I really like morning runs because, since it's only the top ten varsity girls, we get to have a challenging yet rewarding practice. It also means we get to avoid the September heat by getting out there at 6AM," Favret says. After Wednesday practices, the team usually goes to breakfast together for a little team bonding. 
Ray Rodriguez, the head coach of cross country, also reported on the new season and talked about certain strategies that the team has. The team experienced some changes with this new season, as the current top two runners are freshmen Liz Williams and Lily Hund. Rodriguez also spoke about a change of mindset that the team is adopting this year. "I have tried to deemphasize race times, and instead point the focus on each runner's placement in the races and competing against certain individuals from other teams," he says. Rodriguez also believes that hard work and rest and recovery go hand in hand. The team trains hard, but the proper training effect cannot occur without adequate recovery time.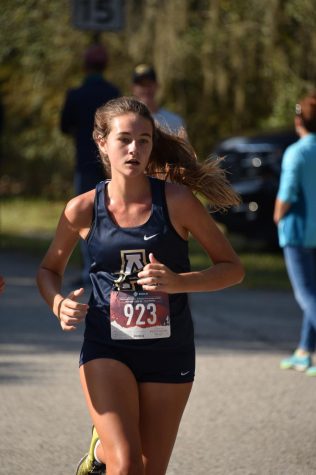 As for race strategy, the team has a very specific way of how they like to compete. Looking at who is competing from other teams is a big part of preparing, because one goal that each person tries to work towards is to run with individuals who have beaten them in past races. Occasionally, teammates will form 'packs' during meets, composed of 2-5 people. The hope for using this strategy is that no one holds back and it encourages them to keep up with each other, which can improve an entire group of people's placement at once in the races.  
The biggest goal for the team this season is to send as many girls as possible to states, and each runner is focused on improving their times and competing against specific people from other schools. Both JV and Varsity have already run in 3 meets each, and their best placement so far has been 6th out of 30 teams total, and they expect to continue improving as the season progresses.
Tuesday, September 28 is the next meet for both JV and Varsity. It is also senior night for the Varsity runners, and the meet will be held at Rogers Park Golf Course.