Academy holds memorial for Sister Mary Patricia (SNJM)
October 12, 2021
On Sunday, October 3, 2021 the Academy community gathered together for a memorial mass and luncheon in remembrance of Sister Mary Patricia Plumb (1937-2021). Alumni, family, teachers, former students, and friends all gathered together to celebrate a life that has touched many.
Mission and Ministry Outreach Coordinator, Kim Wiley said, "I had to set everything up for the mass and I kept hearing Sister Mary Patricia in my head- as she was the one who would oversee all of the masses.  It was one of those things where you would try to make her proud. And I think it went really well, and I think she would have been very pleased with it."
Curiously enough, all of the ceremony was meticulously planned by her, down to the last detail. 
Wiley said, "She had had health problems over the years and she actually almost passed in 2015. When she was coming out of that she started to organize the funeral plans, which I found inspiring. It had that acceptance of 'I know my time here is limited' but I get to decide how I want my end-of-life celebration done. It's very poetic in the sense that not all of us have that opportunity- or feel comfortable in doing so."
She orchestrated who was to speak, who the priests were to be, what the readings and songs were, and even who was to attend. 
Sister Mary Glavin said, "I was not surprised that she planned everything, as that was her style. The songs were some of her favorites, the priest was Father Bob Wiseman who she worked with in Clearwater, and her friend Rev. Elizabeth Walker." 
There were over 140 people present, including her brother, Terry, and several of her nieces, grandnephews, and grandnieces.  The mass was also streamed online as not everyone could fit in the chapel.
Sister Mary Glavin said, "Everybody who was there to celebrate with her was someone who knew her well, and cared about her a lot, and whom she loved."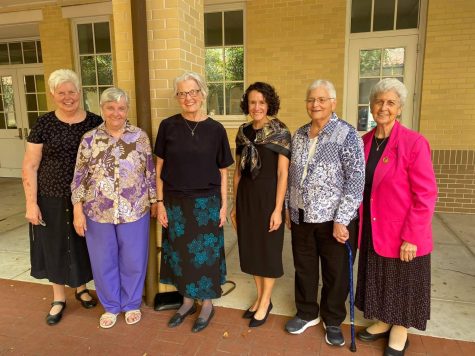 The Mass ended with the "Notre Dame Victory March", her beloved school's fight song. All of the guests were sent off to the luncheon with the words, "Onward to victory" 
Richard Gozmart, one of her former students and President of the Columbia Restaurant Group, catered the reception. Her family and friends shared stories and gave talks about moments they had shared with Sister Mary Patricia and the effect she had on their lives. 
Sister Lisa Perkowski said, "Listening to their stories I was touched by how profound a sister's love can be in someone else's life. As a woman religious she made an impact in their life and was a sign of love and acceptance."
View this post on Instagram