Spike and Splash canceled due to Hurricane Ian
October 10, 2022
Spike and Splash, originally scheduled to take place on September 28, 2022, was abruptly canceled due to the sudden emergence of Hurricane Ian. Both players and spectators were disappointed to miss this school-wide fundraiser and are hoping it will be rescheduled as soon as possible.
Academy of the Holy Names is in a Zone A evacuation zone for Hurricane Ian. Academy's location directly off of Bayshore also makes it especially susceptible to extreme weather, including hurricanes. Keeping in mind the safety of students and faculty, the Academy administration team made the decision to close school from Tuesday, September 27– Friday, September 30 on Monday afternoon. Academy also canceled or postponed all school and extracurricular events, including  Spike and Splash.
Some students, such as Colleen Buckhorn ('23), evacuated to other parts of the state or country following the cancellation of school. Although students were disappointed by the cancellation, they understood the necessity of it.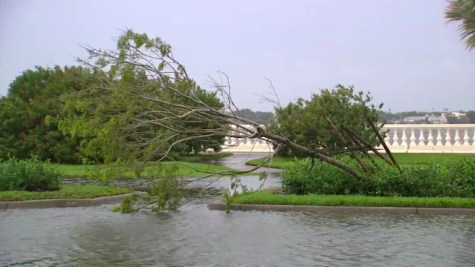 Buckhorn lives on Davis Island and made the decision to evacuate to North Carolina with her family. Buckhorn said, "Living so close to the water and being at such a high risk for flooding is super scary so evacuating can be extremely overwhelming because you're leaving everything behind and you don't know what to expect when you come back."
On Sunday night, the announcement of public school closure in many Florida Counties, including Hillsborough County, from Monday, September 26– Friday, September 30 left Academy students wondering what the outcome for their school would be. Local public schools, such as nearby Plant High School, are required to serve as emergency shelters when a hurricane strikes the area. These shelters were available to provide a place to stay for those who could not evacuate: the homeless, those without family, those in poverty, and more. Academy does not serve as a shelter or have to follow Hillsborough county's school closures because they are not a federally funded school. As a private business, Academy has the option to make its own decisions regarding the school. However, Academy staff members have said they consider the decisions of Hillsborough county schools when making their own decisions. 
All Hillsborough County schools will close starting Monday in advance of possible impacts from what could be Hurricane Ian later this week. Many of the county's schools operate as storm shelters, and buildings will serve as such through Thursday. pic.twitter.com/U6JIt8IJkb

— 10 Tampa Bay (@10TampaBay) September 25, 2022
"The reason we canceled Spike and Splash has a lot of factors, but mainly it pared down to our school being in a Zone A evacuation zone. Plant High School has already canceled school and its athletics, so how would the school have a competitor? It was for all intents and purposes better safe than sorry to cancel the event," said Vice Principal Melissa Cox.
In regards to Spike and Splash, the event was definitively canceled on October 7. Despite the cancelation, 96% of students who participated in a poll taken through Achona's Instagram reported they would like Spike and Splash to be rescheduled. Those students who would like Spike and Splash to be rescheduled report the event is good for fostering school spirit. Amber Torres ('23) says, "I think it is a good thing to get everyone together and bring our school spirit out for a good cause."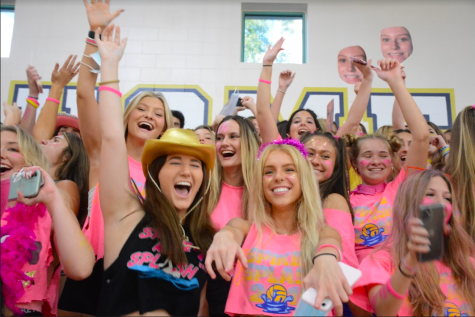 In brighter news, the Academy of the Holy Names vs Berkeley volleyball game, which usually takes place during Spike and Splash, was rescheduled and is now set to take place on Monday, October 9, 2022. Although this is not technically Spike and Splash because the swim meet will not take place and the game has no charitable association, students are still being encouraged to come and support their fellow AHN jags.
Alana Young ('23) says, "I'm very disappointed Spike and Splash were canceled because it is my favorite event of the year and it's disappointing we have to miss out on it during our senior year. My friends and I are going to make the most of it and treat the Academy v Berkley game as a fake 'Spike and Splash' instead."