Breaking News: Convocation on the Updated Mask Mandate 
September 19, 2021
On Thursday, September 16, faculty of the Academy of the Holy Names called for an impromptu convocation to go over the revised Covid-19 update. 
Weekly meetings conducted by the leadership team convened on Thursday, September 13 to review the recent Covid-19 statistics. In an email update, President Kevin Whitney shared that under two percent of the student population at AHN has been required to quarantine and no transmission of the virus has been reported to have occurred in the building. Additionally, they share that the external trend of positive cases continues downwards in comparison to the rise in cases just prior to the advent of the school year. However, the numbers for children 12-and-under are still experiencing the emergence of new cases, filling pediatric hospitals. Reiteration of this information was shared with students at convocation.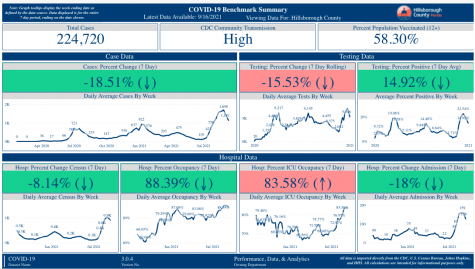 With pre-existing restrictions, the Academy community has seen numbers that continue to trend down. Because of this, small incremental changes are to be implemented for students and staff most eligible for the vaccine starting as early as Monday, September 20. The school's medical advisors and health advisories continue to state that those who are fully vaccinated are well-protected against Covid-19. During convocation, Sister Lisa used student volunteers to visually represent adequate social distancing established by the schools committee.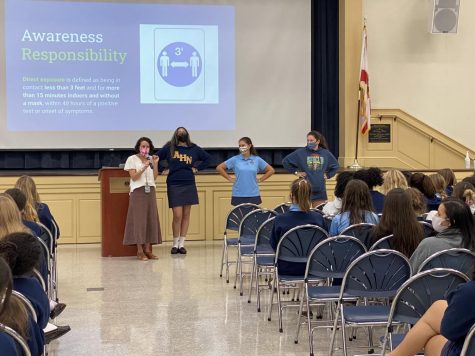 Grades seven through twelve will transition into a  mask conditional protocol. Implementation of this new protocol allows students to remove their masks when seated at their desk and socially distanced (three feet) from other students. Masks for these students are required when social distancing is not possible indoors (mass, science labs, group work in confined places, and side-by side seating in the commons). The updated protocol requires social distancing of all people in the building and unvaccinated staff to wear a face covering at all times. In the coming weeks, discretion by teachers and administrators will be used for when students will be required to wear masks depending on classroom activities. During convocation, Sister Lisa detailed that mask wearing would be dependent on the setup of the classroom, which fluctuates between three main floor plans across the renovated floors. 
When the modified policy was introduced to the high schoolers in convocation, scattered applause could be heard. This is reflective of the mixed attitudes of students towards the new policy. Whilst some students are excited at the potential return to previous normalcy and feel optimistic the decreasing numbers will remain, not everyone shares the same opinion. 
Kate Pettit ('23) shares her concerns with potential quarantine during her critical swim season and potentially bringing home the virus to other members of her family. Petitt said, "I am fearful of the new mask mandate because I am aware that Covid is still spreading and putting lots of people at risk. I do not want to be quarantined and miss two weeks of swimming for the most important year for recruitment."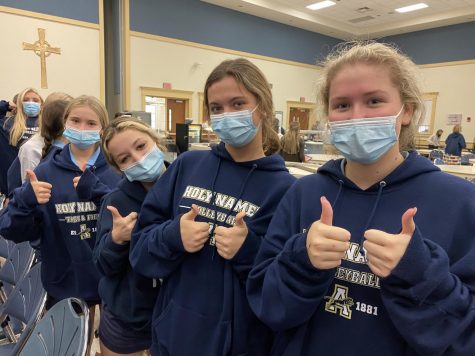 For Pre-k through sixth grade, face coverings of all students, staff, and visitors will remain a requirement. As many of these students are not yet eligible for the vaccine, changes for the population are not yet effective in preventing the spread. 
View this post on Instagram
Students and parents are still asked to maintain daily self-monitoring and wash hands frequently. Prevention strategies in the Academy building beyond face coverings include social distancing, advanced air-filtration systems, and expanded sanitation efforts within the classrooms. 
Sister Lisa explained to the Academy high school community that reliance on student discretion is vital to the smooth integration of this new policy. She further highlighted that it is essential that there is no judgement within this transition. As expressed by students and families of the Academy, there is a range of toleration to implemented protocols and susceptibility of risk to transmission of Covid-19. Because of this variation, principal Sister Lisa concluded the convocation by once again highlighting the importance of awareness and respect within this transition.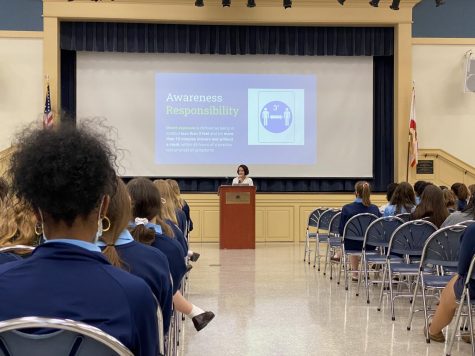 The next Covid policy will officially start on Wednesday, September 29.