Asian American and Pacific Islander Heritage Month celebration begins in May
May 16, 2022
In May, Asian American and Pacific Islander Heritage are celebrated throughout the month. The term encompasses the entirety of the Asian continent and Pacific islands. AAPI Month is observed as a time to celebrate the contributions and influence Asian and Pacific Islanders had on the culture and development of the United States. 
View this post on Instagram
AAPI Month originated in Congress in 1977. Frank Horton of New York introduced the House of Joint Resolution 540 to claim the first ten days of May as Asian/Pacific American Heritage Week. Unfortunately, this original attempt along with others was not able to pass. In 1978, President Jimmy Carter began a week-long celebration during the first week of May. This celebration was upheld over the following decade by the president's annual proclamations of renewing the idea of the week-long celebration. Eventually, George H.W. Bush signed the bill passed by Congress to extend American Heritage Week into a Month, which was passed two years later. 
May was selected as the month designated to celebrate Asian American and Pacific Islander Heritage to honor the first immigrants from Japan who arrived in the United States on May 7, 1843. Furthermore, the month of May holds additional value in that it marked the completion of the transcontinental railroad On May 10, 1869, which is commonly referred to as Golden Spike day. The completion of this monumental project was largely credited to the backbreaking labor of Chinese immigrants. These workers did physical labor through hostile terrains and brutal weather conditions, all while receiving a lesser pay than their white counterparts. 
The 2022 theme for AAPI Heritage Month, which is selected by the Federal Asian Pacific American Council, is "Advancing Leaders Through Collaboration".
Amanda Chau ('23) says,"I feel as if this a great theme, and that it is something that Asian American struggle with across the United Sates as it is statistically shown that Asian Americans are the least likely to be promoted in the workplace."
View this post on Instagram
There are easy ways to celebrate AAPI Month. One of the best ways is to support local AAPI-owned businesses that are still recovering from the detriments of the pandemic. By spending at Asian-owned establishments, consumers' conscious efforts to support minority businesses aid in building community morale and culture.
Another way to celebrate is to research the history of AAPI. Asians in America have faced xenophobia, racism, bias, and violence. With the rise of anti-Asian hate crimes during the Covid-19 pandemic, it is more important than ever to take advantage of the educational opportunities available and highlighted during AAPI Heritage Month. To learn how to prevent these devastations, it is important to become more culturally aware.
Breaking down negative stereotypes about the Asian community can help in reversing hostile attitudes heightened by the pandemic. Turning grief into activism during this month can be a great way to honor those in the community who persevered through these adversities and contributed to the cultural landscape of the United States. Moreover, Supporting nonprofits striving to end Asian hate, Asian-owned businesses, attending local in-person events, and learning about the culture through movies and other media outlets are great ways to get involved with the celebration of Asian American and Pacific Islander Heritage Month. 
Celebrate Asian American and Pacific Islander Heritage Month with these wonderful books! https://t.co/t8y4iabOdY @rachelkhong @nicolesjchung @pronounced_ing @aliwong @MeghaMaj @MPMtheWriter @Jbrekkie @NghiVoWriting @fakemaddoxjolie @AlbertSamaha #AAPI #AAPIHeritageMonth pic.twitter.com/cLeNuK1me8

— Lisle Library Dist. (@lislelibrary) May 16, 2022
The Academy of the Holy Names Community is celebrating this month through morning messages sponsored by POWER. These messages provide some information and fun facts about AAPI. celebration within the school will continue with a lunch hosted for students who identify as  being of AAPI heritage. 
On Wednesday May 18, Academy of the Holy Names POWER club held a lunch to celebrate AAPI Month. The lunch was held on the third floor balcony, and all students who replied to the High School census that they identified as Asian America and/or Pacific Islander were invited. The food that was catered was from a local Tampa restaurant, Rouen Thai. The event was a great opportunity to support a locally owned Asian Business and bring together the AAPI identifying community.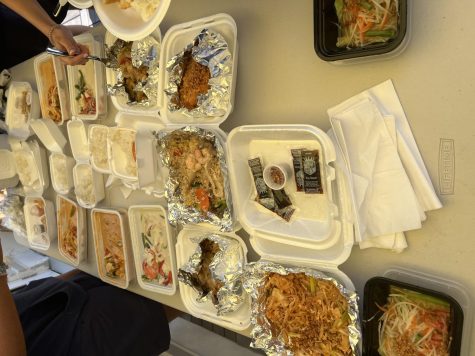 In addition to the lunch, POWER sponsored morning announcements all week. They included fun facts and interesting information about AAPI heritage.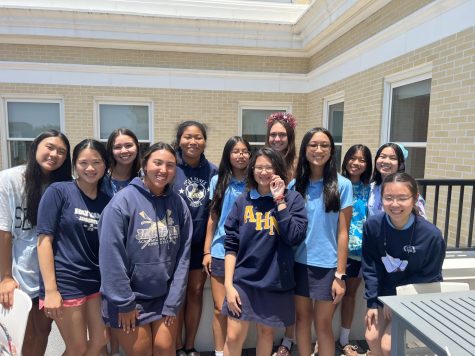 Amanda Chau ('23) said, "I had  a great time at lunch trying new foods and supporting a locally-owned Asian business. I was so excited to celebrate AAPI Heritage Month with my classmates."
Updated May 27, 2021