Upbeat music to motivate your workout
If you're looking for a workout playlist that will get you motivated, take note of the following suggestions. Motivational songs will keep your body and mind active and will help you perform better. Whether you will be doing high intensity cardio or simple pilates, listening to the right type of music will help you enjoy your workout.
Cardio
When doing Cardio, you want to listen to songs with fast beats to stay in rythm with  your heart  and burn calories. Dubstep or pop are ideal when doing a Cardio routine.
•Kelly Clarkson – "People Like Us"
•Avicii – "Wake Me Up"
•Lana Del Rey vs Cedric Gervais "Summertime Sadness" (Remix)
•Fall Out Boy – "My Songs Know What You Did In The Dark"
Indoor Cycling
When performing a stationary exercise, listening to pop or rock songs will remind you of people and places. If you listen to songs that mention actions such as "move, jump, put your hands in the air", it will light a spark in you to finish those final minutes of your workout.
•Justin Timberlake – "Holy Grail"
•Mike Posner – " The Way It Used To Be"
•Jennifer – "Let's Get Loud"
•Madonna – "Ray Of Light"
•Flo Rida – "Good Feeling"
•Imagine Dragons – "It's Time"
•Linkin Park – "Bleed It Out"
•Maroon 5 – "Payphone"
•My Chemical Romance – "Welcome To The Black Parade"
•Bring me the horizon – "Can You Feel My Heart"
Pilates
When doing Pilates, you want songs that are not as intense as cardio, but still have fast beats. Listening to remixes of pop songs will help you experience a great workout.
•Zedd Ft Hayley Williams – "Stay The Night"
•Zero 7 – "Simple Things"
•Deep Forest – "Sweet Lullaby"
•Tabla Beat Science – "Devotional"
•Afro Celt Sound System "Seed"
•Morcheeba – "The Sea"
•Imagine Dragons – "Demons"
•Florence + The Machine – "Spectrum"
•Kanye West ft Rihanna and Kid Cudi – "All Of The Lights"
Running
When going for a jog or run, you should listen to upbeat songs that mention the words "walking, running, halfway there" to motivate you to finish that extra mile. These songs will get your heart pumping and feet moving.
•Passion Pit – "Take A Walk"
•Bon Jovi – "Livin' On A Prayer"
•Girl Talk – "Hands In The Air"
•Rihanna – " We Found Love"
•Jay Z – "On To The Next One"
•Robyn – "Call Your Girlfriend"
•Guns N' Roses – "Welcome To The Jungle"
•David Guetta – "Titanium"
About the Contributor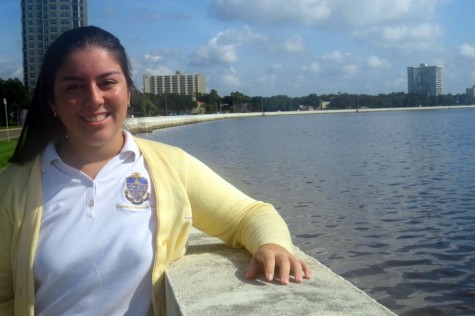 Alejandra Lozano, Editor in Chief
Alejandra Lozano is a senior at the Academy, a fourth year journalist, and an Editor-in-Chief of the Achona. Her favorite subject is AP Lit and some of...